Face it: your netbook has a tiny keyboard, and that sucks. It's just one of those annoying things that comes with the form factor, and you wouldn't trade it for the world. But does that have to be the case? Behold:
This tantalizing netbook prototype, first shown at Yanko Design, will allow you to pack a lot more keyboard into a small space, as you can see. An additional layer would definitely add some thickness to the netbook, but this could definitely be a worthwhile tradeoff if you've got man-fingers like me.
Once upon a time I would have doubted that this netbook could ever hit the market, but this is a world where we have dual-screen netbooks and netbooks with removable displays. Nothing's surprising anymore, is it?
Jan 14 2010
HP is joining Lenovo in the ranks of netbook makers delivering a Snapdragon-based machine. The new HP prototype breaks the trend of netbooks running the Intel Atom with the new Qualcomm chip that offers more efficiency and battery life.
The Snapdragon CPU can power some small computers for up to 24 hours. It has a lower clock speed than the new Pine Trail CPUs but, in conjunction with Linux or Google Android it could be a competitive combo.
Very little else is known about the upcoming Snapdragon HP netbook.
Via FierceCIO, image via HP.

Dec 1 2009
Last week, MSI introduced a new netbook prototype showing what it hopes to bring consumers in the near future. It's called the Wind12 U230, and it rocks up to 4 GB of RAM, an integrated Radeon HD3200 GPU, a SATA hard drive in capacities ranging up to 320 GB as well as Windows 7 Home Premium. Other features include HDMI out, Ethernet, and 3 USBs. This isn't a netbook to be messed with.
The surface area of the keyboard has expanded while restricting the device to 11.7″ x 7.5″. It's still light at 1.3 kg. Its 3 cell battery runs for over 4 hours, and while I'd hoped we'd be getting a 6-cell option as well there's no word on that just yet.
MSI is starting to truly bridge the gap between netbooks and notebooks. This machine will definitely be able to play games you'd otherwise be unable too, though the price tag will likely be high enough to justify what it gets you.
Pricing and availability are unknown for now, but we'll be on it when the info's out there.
Via Techspot.
Jul 27 2009
Pegatron has another Freescale netbook prototype out and about, the same one trade shows (like June's Computex) have gotten a glance at. It's displayed here next to a Palm Pre because both the netbook and the smartphone share ARM's Cortex A8 core architecture.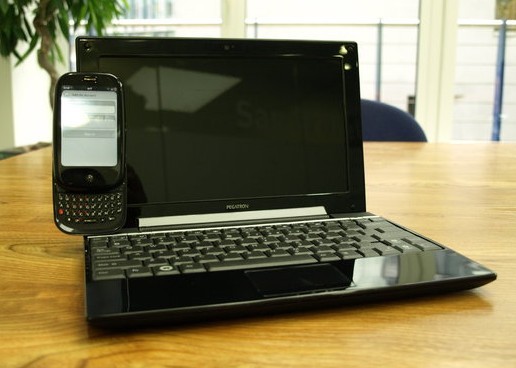 The netbook hasn't got a name for now, but it runs a 1 GHz Freescale iMX515 CPU, capable of playing 720p video and running some 3D games.
Aside from the slow processor, the netbook's specs are otherwise impressive. It has integrated 3G and GPS as well with WiFi and Bluetooth. The netbook should get up to 8 hours of run time.
An actual release for the Pegatron netbook may be a while off, as long as it gets positive feedback from testers. ASUS could be the company to greenlight the project or even label it an Eee PC.
Hopefully, the netbook should see low prices due to its smaller processor.
Via SlashGear.