Marvell Technologies has announced today that it will partner with the One Laptop Per Child foundation to create a $100 tablet, named the XO-3. The foundation achieved great success with the XO-1 laptop computer for children in developing countries.
More details about the XO-3 have emerged. It will have a power rating of 1 watt per hour, a multilingual, multitouch screen keyboard, WiFi, high quality video, and Flash 10 Internet. It will be based on an ARM processor, most likely the Marvell Armada 610, and run Google's Android OS.
According to OLPC founder Nicholas Negroponte, the XO-3 will eventually have an adaptable screen to allow for viewing in either sunlight or inside. The tablet will allegedly be 10.8 millimeters thick, which rivals the iPad.
The tablet is planned to be shown at the Consumer Electronics Show in January of 2011.
Via CNET, image via OLPC.
Dec 26 2009
The OLPC (One Laptop Per Child) charity organization has ambitious plans for its latest netbook design. Earlier this month, the organization announced its plans to create the impossibly thin OLPC XO-3 tablet in two years time.  Now OLPC is hoping to distribute the XO-3 touchscreen laptop to impoverished children around the globe by the year 2012. Note: the projected price range of the device is less than a hundred dollars.
The original OLPC XO netbook is already out in the market and has been distributed to 1.4 million children in 35 different countries. The charity's new creation will have a 9-inch touchscreen and will contain neither a mouse nor keyboard.  It is also planned to be extremely sturdy and run an ARM processor.
If the success of its XO netbook is any indicator, OLPC will likely reach its goal and continue to provide valuable education to children who otherwise would not have the opportunity.
Via TechWatch, image via Guardian.
Dec 23 2009
Yves Behar, designer for OLPC, has revealed a concept vision of its pet project, the XO-3 tablet.  The tablet will be comprised of an 8.5 x11 inch touchscreen. The surface of the device also reveals a camera on the back and a small ring in the upper left hand corner, used to carry the tablet around.
The tablet plans to make use of the possible improvements in technology that will be uncovered within the next two years. The OX-3 hopes to use no more than one watt of power to keep both its processor and Pixel Qi screen running. In addition, it is projected to be about half as thick as the current iPhone model.
Is this tablet prototype dreaming too big? Only time will tell.
Via Engadget.
Nov 6 2009
What would you do with your 6-cell netbook if you could leave it on for 36 hours at a time? It sounds pretty insane, but JKOnTheRun has unearthed information about some very realistic ionic battery advances from one Arizona State research team.
Batteries haven't gotten a technology boost in ages, but in a time where mobility is key to much of the consumer electronics sector, upping the juice could have a tremendous effect. While netbooks have been taking massive strides into the developing world, for example, it's still not economical to take a laptop or netbook on trips where reliable power outlets are few and far between.
But I'm getting ahead of myself. The technology is currently directed at cranking battery life in electric vehicles, but it's only a matter of time before the technology shrinks down to PC level. In the words of JKOnTheRun's Kevin Tofel:
"Some quick math using the project's median target shows why I'm hoping this comes to pass. If a 1 kilogram / 35.5 ounce ionic battery can hold 1250 Whr of juice, that's about 125 Whr per 0.1 kilograms / 3.5 ounces. That works out to an energy density of 35.7 Whr per ounce of battery weight. The battery of my Toshiba NB205 battery weighs 11 ounces, so an ionic battery of similar weight could offer 392 Whr as opposed to the 63 Whr my current battery offers. I'm all for more efficient electric cars, but the ability to run my netbook for nearly a week of work time is pretty appealing too."
Be sure to check out TechnologyReview's focus on the technology itself here.
May 19 2009
The latest child-specific netbook set to make its way to market is the new Dell Latitude 2100, which starts at $369.
Dell's Latitude 2100 comes in a variety of colors ("School Bus Gold", for example) in a rubberized case for durability. Unfortunately for the kids, a light pops on when the netbook connects to the internet. Why? So teachers know if they're surfing the web instead of listening.
While schools in Australia have been notably progressive in involving netbooks in the classroom, US school systems and governmental groups have seemed less interested in the idea. To encourage American schools to adopt the Dell Latitude, Dell has thrown in access to its custom drive imaging as well.
The Latitude 2100 has the option of being a touch screen, which sounds great at first, until you realize that Dell is going to charge you for it. Bringing the battery from 3 cells to 6 cells will likely cost more as well, and once you throw in Dell's "matching mobile cart", the price could be out of control.
Somehow, the cost of kiddie netbooks tends to be high, which is the opposite of what you'd expect. If you're okay with the price range you can get an Intel Classmate PC for $500 or a PeeWee PC for $600, but if you're like the rest of us you'll be happiest with an OLPC for a mere $180.
As soon as official pricing is available we'll have the news for you, so check back soon for more on the Dell Latitude 2100.
Via ZDNet.
Apr 30 2009
In the whirlwind of new netbook releases following the segment's explosion last year, the 'kid-oriented' ideal of the OLPC has often gotten left in the dust. Aside from the original OLPC we haven't seen many netbooks aimed directly at children, with the exception of a few toy–themed netbooks that have been more about form than function. Sure, Australian students are getting their own netbook programs, but the rest of us are still wondering – what about the kids?
PeeWee PC is answering that call with the new Atom-powered PeeWee Pivot Tablet Laptop, a 3-pound toylike device designed specifically for tykes everywhere.

(Credit: PeeWee PC)
It can be controlled with a keyboard or stylus, as pictured above, and features a "rugged, spill-resistant case" so that neither the grubbiest fingers nor the stickiest apple juice will have a chance of breaking it. It's no Trimble Yuma, but it looks like it can take the bumps a kid-friendly netbook needs to.
The PeeWee Pivot Tablet Laptop (netbook) runs XP with nearly the standard formula – 1.6 GHz Atom, 1 GB RAM, and a smaller-than-average 60 GB hard drive.
One particular quote from CNet sums up some of the features PeeWee kids will enjoy:
The PeeWee Tablet Laptop ships with game titles for pre-K, early elementary, or upper elementary students, plus a free Walt Disney Windows XP theme, and a proprietary security suite so parents have complete control of how and when kids use the notebook–parents can also view browsing histories, block sites, take screenshots, and control the system remotely.
Additionally, it includes a painting tool, handwriting recognition software, an e-book reader, PDF viewer, webcam software, and Evernote.
Not too bad. The caveat, of course, is the pricetag – somehow none of these kid-friendly netbooks save for the OLPC manage to keep the price down, and this machine is no exception at $600. Still, if the durability, kid-friendly programs, and internet safeguards are worth it to parents, the PeeWee Pivot Tablet Laptop may just be their kiddie netbook of choice.
Via CNet.
Mar 15 2009
There's been woefully little explanation about netbooks since they exploded into the PC market around a year ago. Sure, Best Buy put together a snazzy presentation about the machines, but for all the hype about netbooks it still seems a lot of people are confused.
It seems that in recent times the distinctions between small computers have been blurred beyond recognition, despite (or perhaps due to) the constant influx of new terms for distinguishing them.
Say you have a tiny computer in your hands. Is it an "ultra-portable, Netbook(C), sub-notebook, handheld, mini-notebook, ultrathin notebook, [or] ULCPC"? Or perhaps an OLPC? The categories are ill-defined, and it doesn't help that everyone and their brother is fighting about the legality of the term 'netbook'. So aside from being unbearably confused, you may soon be a criminal for misnaming your machine!
What's to be done? Fortunately, Austin Modine at The Register has thrown together an elucidating and altogether hilarious flowchart for your education. Take a look: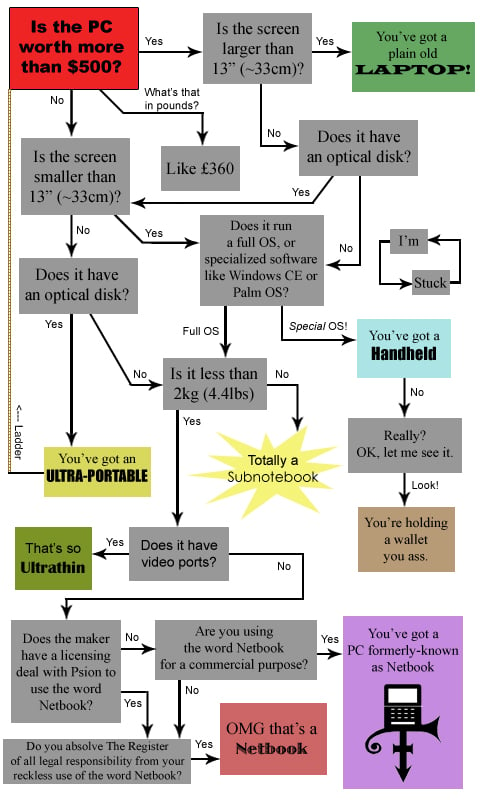 I'm sure we're not the only ones who appreciate some clarity on the matter. We urge you to check out the full article for some commentary on the whole issue, but consider abstaining if you're not one for saucy language.
Via The Register.
Mar 14 2009
The next in the line of ridiculous netbooks has been released. The first two contenders – the Hello Kitty and Gachapin netbooks – came out of Japan. The latest is from Taiwan but is based on a Japanese cartoon by the name of Doraemon.
Based on the OLPC netbook, this machine is by a company named KuroKids. We haven't any specs just yet; however, as seems to be the standard with these kind of machines, you pay a lot for the branding and this machine comes in at around $500.
It will run Windows XP.
Via CheapLaptops.
Feb 23 2009
The newest netbook on the market is furnished in true OLPC style. It's the hardiest machine we've encountered yet, with a contender being the relatively unknown CTL 2go PC netbook of last year. Take a look at the new Trimble Yuma tablet netbook, designed for the harshest of environments:
As we reported recently, manufacturers are taking note of midsize firms' need for rugged machines and are delivering accordingly. Netbooks are filling that gap nicely due to their low cost, and the 2.6 pound Trimble Yuma is the result.
The Yuma tablet netbook  can be submerged in 1 meter of water without sustaining damage. It earned Ingress Protection Ratings of six for dust damage and seven for water.
The netbook can do some hard work itself, too. It is powered by a 1.6 GHz Intel Atom, and comes with Wi-Fi, Bluetooth, GPS, "dual digital cameras", and slots for SDIO and an ExpressCard. You only get 32 GB of storage, but for an SSD that's quite a bit. Moving parts on hardy machines are looked down upon, thus the need for the solid state drive.
Additionally, you can read off the 7-inch screen in direct sunlight. No OS has been specified for the Trimble Yuma thus far, though the pictures suggest Vista. Will it be well-powered enough to run the OS?
Personally, I'd imagine a Linux OS or XP would be a better choice – most netbooks simply can't handle Vista. On the other hand, if the Yuma works it works, and if it makes it to the industries it's designed for that's what it's going to need to do.
There's no word on pricing or availability just yet, but we'll keep our eyes peeled.
Via DailyTech.
Feb 15 2009
Nicholas Negroponte of One-Laptop-Per-Child (OLPC) recently announced that his foundation (which according to him started the netbook craze in the first place) is taking a major step towards his goal of durable $100 dollar netbooks for the children of the world.
The OLPC netbook has gotten a sizeable price drop, from $204 to $180. The foundation hopes to meet the $100 goal eventually, but is going to take it in steps.
The price cut seems to be due to drops in the prices of parts.
Negroponte also made some hints about the next version of the OLPC netbook, which will be "a dual-screen model with a virtual keyboard that he hopes to sell for $75." He hopes he can get kids using the new netbook free internet as well, though didn't elaborate on how.
Via TechRadar.
Feb 9 2009
Who knew the day would come when Bandai would take a dip into netbooks? If I'd heard that a few months ago I'd have absolutely no idea what to expect, but given the lengths to which Japanese manufacturers will go to produce a machine with copious branding (see: Hello Kitty netbook), nothing is unexpected anymore.
And thus comes the latest in a line of hilariously flashy, eccentric, and extremely Japanese netbooks: the Gachapin and Mukku Ultramobile PC.
If you can bear to tear your eyes from the retina-burning neon green of the netbook, you'll notice the glum-looking face in the wallpaper. That's Gachapin, the green dinosaur whose sing-along antics have attracted the love and money of the latest generation of Japanese children. The horrified-looking furry  thing is Mukku, Gachapin's red Yeti sidekick.
The machine is designed to be kid-friendly, in classic OLPC style. I highly doubt any adult could get serious work done on such a garishly-bedecked device, anyway. Japan really loves cute branding, and who can blame the CEOs responsible? If netbooks were around when I was seven, I'd have taken Gachapin over the comparatively boring Classmate PC any day of the week.
The netbook isn't kiddie when it comes to hardware, though. Beneath the cutesy exterior lie the components of a competitive machine, running the "N270 Intel Atom processor  (1.60 Ghz), a 120GB HDD, Wifi, a webcam, a One-Seg digital TV tuner with an antenna, a webcam and a 8.9 TFT screen with 1,024×600 resolution."
From the moment you boot up the netbook, Gachapin's voice will boom from the speakers in an effort to propagandize you into being more efficient: "Goood morning! Goooood morning! Let's try to work hard today!"
The Gachapin and Mukku Ultramobile PC will be out in Japan this March, for a pricetag as frightening as the monster himself: US $880.
Via CrunchGear.
Jan 28 2009
We've got your first glance of the latest netbook on the market – the OLPC netbook, which may or may not ever come to market.
Tariq Krim, the man behind Jolicloud, saw the new netbook at Davos today.
The OLPC netbook has dual touchscreens, an awesome concept, and will replace an older model.
Thus far, of course, we still don't know if anyone's making it. We can hope though.