The iPad has yet to hit shelves, and yet it has already become clear that a tablet war will likely consume much consumer attention in 2010.  Apple, to much applause, has announced its champion, and Windows will likely respond with an arsenal of 3rd party devices. But who will carry the open source community's banner into the fray?  Joojoo Tablet has fallen from favor once it became clear it would run a browser-based OS, and the other Android tablets have failed to garner much attention.
Notion Ink's ADAM appears to be standing ready to fill this hole. It's a Linux-based tablet that already has set its eye on defeating the iPad, and the spec list does not seem to betray it in that regard:
10″ Transflective LCD, Pixel Qi Screen 1024 x 600 with low power mode
Multitouch capacitive screen
Dual Core ARM Cortex A9 with NVidia Tegra 2
HDMI 1080p Out
3 USB Ports
Battery life: 160 hours backlight off, 16 hours video playback
Wi-Fi, 3G, Bluetooth
Multitasking
Rear trackpad
Adobe Flash Support
Camera
SD Card Slot
The truly revolutionary component on this tablet is its screen, which incorporates Pixel Qi technology to give a similar experience as e-Ink when the backlight is off. This gives the tablet its godly battery life,  and allows it to directly challenge the reading experience of eReaders.  It is a powerful tablet, and the device's multitasking with Flash support is undoubtedly a response to the iPad's inability to do either.
Still, this thing comes with some weird quirks. It is unclear what the OS shall be on this tablet, as three are listed in the spec sheet (Android, Ubuntu, Chromium). Pricing is  highly variable, $327-800, but still easily competitive with Apple.  All that remains is to see how well Notion Ink will market this and get public support behind it.  For now, it seems like Linux's best shot to take the mainstream.
Via Gizmodo, image via Notion Ink.
Aug 10 2009
E-readers aren't our favorite devices here at NetbookBoards, but ever since someone suggested that the Kindle could be a netbook killer for literary types, we just can't get them off our mind.
So when some sneaky folks over at the HiPDA forums decided to leak the service manuals of Sony's upcoming e-readers, we had to get as much info as possible. Take a look: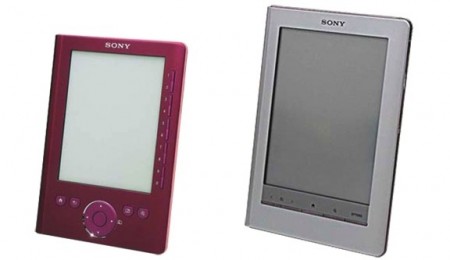 Those are the upcoming Sony PRS-300 and the larger PRS-600 ebook devices. The red one has a 5-inch 800 x 600 Vizplex e-ink display, much like the kind of display offered by Pixel Qi, and can show eight levels of grayscale. Weighing in at 7.76 oz and measuring 6.2 x 4.2 x 0.2 inches, it's a slender newcomer to the e-reader stage.
The lithium ion battery is good for 7500 page turns (recall that e-readers only use power when you turn the page). It will support "Unsecured Text: EPUB File (Non DRM/ Adobe DRM protected), BBeB Book (Non DRM/ PRS DRM protected), PDF file (Non DRM/ Adobe DRM protected) and Text, RTF  and Word files (unsecured)," and go on sale for around $199.
The grey one is the Sony PRS600-SC, with a 6-inch display of the same resolution. It adds non-DRM AAC, MP3 audio, as well as JPEG, GIF, PNG and BMP images. All other specs are expected to be the same, except it has a touchscreen layer. This means fingertip page turns, annotations, highlighting, and more will be possible. It has an on-screen keyboard, 512 MB of memory (like the 300) and should sell around $299.
These new releases are exciting, of course, but if you have any sense you'll get a netbook instead. Just throwing that out there.
Via SlashGear.
Jun 1 2009
We mentioned that the Pixel Qi netbook e-reader screen was coming to market soon, but we didn't know the magnitude of the boosts in energy efficiency that the new screens could give.
Time got a look at some Acer Aspire One netbooks modded with the Pixel Qi 3Qi Hybrid display this week, and the results were astounding. The netbook has a toggle switch for changing between emissive and reflective display, which means you can use the netbook with LCD viewing for full color and video capability.
So how great will netbook battery be with the Pixel Qi display? Supposedly, e-paper mode only consumes energy during page changes, so battery on an Acer Aspire One could reach as much as 40 hours.
I don't have a clue who's going to be reading on a netbook for 40 hours straight, but the numbers are promising.  The screens should come in at under $200. That doesn't sound great, as that's 50% of the cost of a netbook without the screen, but as the technology gets cheaper the Pixel Qi e-reader screens should start to become mviable for new netbooks.
Via Gizmodo.