Sony has just announced that they are taking pre-orders for their new second generation Vaio P Netbook. Some of the the netbook's notable characteristics include its low weight (weighing a measly 1.3 ponds), its high price ($899), and of course its unique design consisting of rounded corners and bright color cases. The Vaio P comes in Icy White, Neon Green, Classic Black, Hot Pink, and Electric Orange.
Unfortunately for Sony, there is nothing all that notable about its specs: 1.60GHz Intel Atom Z530 processor, 2GB of RAM, and choice of 64GB or 129GB of storage. It also comes with WiFi, Bluetooth 2.1,and Windows 7 operating system.
Via Netbook-Planet
May 16 2010
Watch out Apple!  Sony and other netbook manufacturers just might jump into the tablet PC manufacturing business soon.  In fact, Sony recently released their new Sony VAIO P-Series netbooks, which feature new Intel Atom processors, as well as several other new features, including an undersized keyboard with a centralized pointing stick, and a touchpad on the right side of the LCD bezel and mouse buttons on the left side of the LCD.  The setup is essentially similar to that of a tablet.  The Sony VAIO P-Series netbooks also have accelerometers, so users can use the device in portrait mode.
Sony's newest netbooks will be available in several unique colors: electric orange, neon green, and icy white — definitely sure to catch passerby's attention.  The P-Series netbooks are available for pre-order and start at $800 each for the base model.
Via TimesNewsLine.
Nov 4 2009
On the outside, the Sony Vaio P netbook is sleek and sexy, but its price tag was never exactly something to gawk at. Fortunately for consumers, Verizon will be adding this fine machine to its lineup of mobile gadgets. For a very reasonable $299 – and a signed two-year data plan contract of course – users will be able to buy their very own Sony Vaio P netbook. Considering that the Vaio P was priced near $1,000 at the beginning of 2009, this deal is rather hard to resist wouldn't you say?
To recap, for $299 the netbook will come with 2 GB of RAM, a 160 GB hard drive, and the Windows 7 Home Premium OS, not to mention 3G capabilities. This could be a very good move for both Verizon and Sony.
Via CNet.
Jun 28 2009
Netbooks are supposed to be budget machines, which is why the latest version of the Vaio P has a lot of people scratching their heads.
Believe it or not, the new Sony netbook packs the ungodly price tag of two thousand dollars. That's one more zero than some cheap netbooks out there, and $1650 more than the average.
While the new Vaio P is a special edition, the original cost $1000. It's hard to see what the distinction is between the versions, but if I'm going have a chance of dropping two grand on it it had better have features no other netbook can come close to. Like being able to pay for gas, or make me sandwiches.
Via TheEscapist.
May 9 2009
For those always on the go, ultraportables and netbooks are a godsend. While ultraportables have full-sized keyboards, larger screens, and faster processors though, they also sport a much heftier price tag! Netbooks are generally priced at less than $500 and can perform basic everyday functions, including checking e-mail and surfing the Internet and preparing documents. The downsides to netbooks are that they have relatively smaller screens, keyboards, and processors.
Here is a comparison of the weights of some common netbooks in the market right now:
Via Los Angeles Times.
Mar 27 2009
The Wistron Firstbook is a Linux-based netbook that looks a great deal like the Sony Vaio P or the Lenovo concept Yoga PC netbook. The Firstbook, interestingly enough, will get you integrated 3G for surfing the web.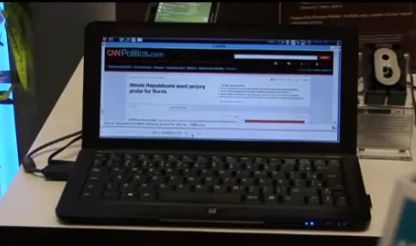 We don't know the full specs just yet, but the machine is supposedly going to have an 11.1-inch widescreen display as well as WiFi/Bluetooth capability.
What's more, the Wistron is rumored to run the Qualcomm Snapdragon, an upcoming netbook chip set to rival the Intel Atom. The video below can give you more info, so take a look!
Via SlashGear.
Feb 3 2009
The headline-making Sony Vaio P has been getting everyone hot and bothered ever since its release at CES 2009. Is it a netbook, or just a netbook lookalike? Does it define all categorization? The device is a serious contender for netbook market share, however, although it's price – a heart-wrenching $899.99 –  is far above the range of most similar machines.
Aside from the major turnoff of the pricetag, the Sony Vaio P not-netbook has some awesome specs, including an 8-inch LCD screen with extra backlighting, a 60 GB HDD, and Vista Home (as well as dual-boot to XMB).
If the cost soured the Vaio P's prospects of wide distribution, then Verizon is its boon. The cell-phone and mobile broadband company recently decided that it wants to offer a $200 mail-in rebate for the Sony Vaio P netbook.
As always, there's a catch. Naturally, you need to activate a two-year wireless broadband plan with Verizon in order to score the rebate. Two hundred dollars sounds pretty good at first, but $60 a month for two years?
The choice is in your hands, consumers. Is the Verizon-Vaio P netbook deal worth it, or just a scam?
Via TomsHardware.
Jan 24 2009
A new device is out on the market, one reminiscient of the flashy but expensive Sony Vaio P. It's called the Viliv S7, and rocks some features you're definitely going to want to check out. Could it be indicative of a new trend of luxury netbooks?
All the info we have is from a single image, available here. However, it's more than enough to get us extremely excited.
The Viliv S7 uses a 1.33 or 1.86 GHz Intel Atom CPU. At first we didn't know what to call it, but the processor combined with the sleek tablet-style form factor told us – this thing is a netbook.
It has a miniscule 7.0-inch display, small even by netbook standards. The Viliv S7 could almost be considered a smartphone due to its diminuitive size.
The Viliv S7 has a 1.3 megapixel camera and will run for 7 hours with "continuous movie playback." It has 1 GB of RAM, which is nothing special, but uses both a 16 GB SSD and a 60 GB HDD in concert. This combination of drives is a computing style that it alone shares with the MSI Wind U115 Hybrid. It will run Windows XP.
If you're anything like us, this netbook looks undeniably awesome. We don't know about price or release info but we'll be sure to check up on it when the time comes.
Via MyViliv.
Jan 20 2009
Despite the massive successes of netbooks in the technology market, it seems the big firms are still being cautious with the devices.
The problem is that nobody really knows how long netbooks will continue to click with budgeting consumers, as they did in 2008. If 2009 brings a major economic upswing, will cheaper machines be out of vogue? With this in mind, HP has been testing its models and Microsoft prepared Windows 7 for netbooks.
Though we all know ASUS and Acer had millions of netbook sales last year, it turns out those sales had low profit margins for retail stores whereas big laptops brought in the cash more quickly.
According to Richard Shim, an IDC analyst, netbooks have prompted consumers to wonder what they actually want from their computers. Paying for power they don't need has made them realize they could save money with netbooks.
J.P. Gownder of Forrester has a contrasting view: netbooks will be a second household PC, rather than a replacement.
The Sony Vaio P is an example of a high-end netbook that will still stay cool when the economy gets back on track. At $900, the eight-inch machine weighs only 1.4 lbs and uses a 1.3 HHx Intel processor.
Via AHN.

Jan 16 2009
CNet recently published a test of the now-available Windows 7 beta on a netbook.
Windows 7 has been rumored to work very well with computer systems using the Intel Atom, to contrast with Vista which as seemed sluggish. The one exception to this is the Sony Vaio P, which uses an Atom but bumps RAM up to 2 GB.
They installed the beta on "a typical netbook," which according to the pictures was an MSI Wind, but we wish they'd specified the model. The only initial problem with booting the OS was that it didn't detect the wireless card, but that was resolved.
CNet's iTunes benchmark test found, in fact, similar scores to the same test evaluating Windows XP. XP was actually a bit faster, completing the test in 743 seconds as compared with Windows 7's 760.
According to "anecdotal use," however, CNet reports that the Windows 7 interface "responded quicker and hung less frequently than Vista."
The question remains: is Windows 7 really a legitimate option for netbooks? Microsoft is rumored to be working on a netbook-specific version of Windows 7, an interesting prospect, so XP may be retired in the near future.
Via CNet.
Dec 27 2008
According to some early estimates, it seems like the Sony Vaio P – which we covered a few days ago – is going to be the most expensive netbook seen before. The jury's not out yet on whether we can really call it a netbook, but regardless, we've got more info for you here.
The latest clue is an ad on its Japanese website which features a woman reading from an envelope which announces that a new VAIO laptop is on the way.
The envelope thing seems like a clear reference to the Macbook Air ads. It seems likely Sony will try to challenge Apple for thinnest laptop in the near future.
As we noted before, the machine will run Windows Vista Ultimate and have some excellent specs. These include a 1.33 GHz Intel CPU, an 8-inch 1600×786 LED screen, and a 60 GB HDD space with the option of an alternate 128 GB SSD. It will have at the very least 2 GB of memory, which hopefully will be enough to manage Vista. It will be somewhere around 22×11 cm and have a respectively large keyboard. The colors sound elegant – Champagne Gold, Crimson Red, or Black Silk.