It seems that Sprint got a bit too excited about its decent EVO 4G sales. It had originally stated that it sold 3x as many phones within the first day that their best phones had sold over 3 days. What it actually meant was that it sold in one day 3 days worth of phones. They double counted that triple multiplier it seems.
Regardless, they are sold out of the EVO 4G and analysts estimate that it sold a not too shabby 150,000 on launch. Nowhere near a 1 million unit iPhone kind of launch, but an achievement for Sprint and Android nonetheless.
via cnet
May 13 2010
On Wednesday, Sprint announced its highly anticipated 4G phone, the HTC Evo 4G. It will be available June 4 starting at $199.99 with a two-year contract after a mail-in rebate (unless you pre-order it at Best Buy or Radio Shack, in which case you will not have to deal with the rebate).
The phone will require an Everything Data Plan, which costs $69.99 per month, plus $10 extra for WiMax, even if you do not live in a 4G coverage area. There is no data cap associated with the plan. The phone will also be able to act as a mobile WiFi hotspot for an extra $29.99 per month.
The Evo 4G will ship with a YouTube HQ player and a video chat app that can be used with the 8 megapixel front-facing camera. It boasts a 4.3-inch touchscreen and runs Android 2.1.
Via CNET, image via CNET.
Nov 2 2009
Sprint has just recently announced that it will be getting in on the netbook action and will be starting off with the Dell Inspiron Mini 10 netbook. According to Kevin Packingham, the senior vice president of Product Development at Sprint, the "Dell Inspiron Mini 10 is a fun way to easily access the speeds of Sprint's network to catch-up on e-mail, surf the Web and more."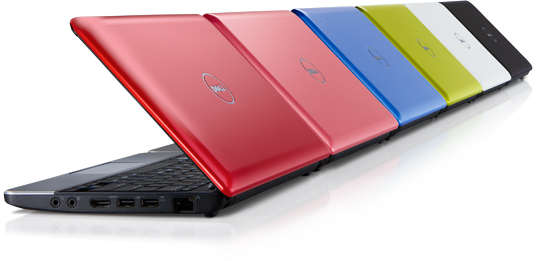 Features of the Dell Inspiron Mini 10 netbook include a 10.1″ screen display with 1024×600 resolution, an Intel Atom Z520 processor, Integrated Intel 500 Media Accelerator graphics, a 160 GB hard drive, Bluetooth, Wi-Fi (802.11g), Microsoft Windows Home XP (SP3), and a 1.3 megapixel webcam.
With a two-year contract, the Dell Mini 10 netbook would cost $199.99, after a $100 mail in rebate.
Via TheTechHerald.
Oct 29 2009
Sprint is launching a 3G netbook trial program in five US markets – San Francisco, Baltimore, Phoenix, Minneapolis and Indianapolis. Only one of the aforementioned markets – Baltimore – has WiMax 4G.
Sprint has offered incredibly competitive netbook deals in the past, but never on this kind of scale. One notable event was its 99 cent Compaq Mini 110c promotion back in July, which may have been lucrative enough for Sprint to consider kicking it up a notch.
Word has it the Sprint program will go into effect as soon as November 1st.
Via ZDNet.