Digitimes, is reporting that Young Fast Optoelectronics, a Taiwanese touchscreen manufacturer, is working on analog matrix resistive (AMR) displays to be used for netbooks. That means they'll allow for multi-touch gestures, an ergonomic feature supported by Windows 7.
Multi-touch has been seen before in netbooks, but mostly in testers or modded samples. However, support for multi-touch in Windows 7 will allow for more ambitious things than in earlier operating systems.
The screens by Young Fast Optoelectronics could be available for wide distribution by late 2009 or early 2010.
Aug 10 2009
E-readers aren't our favorite devices here at NetbookBoards, but ever since someone suggested that the Kindle could be a netbook killer for literary types, we just can't get them off our mind.
So when some sneaky folks over at the HiPDA forums decided to leak the service manuals of Sony's upcoming e-readers, we had to get as much info as possible. Take a look: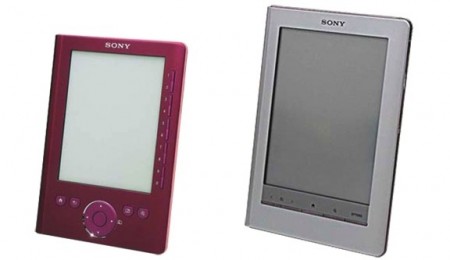 Those are the upcoming Sony PRS-300 and the larger PRS-600 ebook devices. The red one has a 5-inch 800 x 600 Vizplex e-ink display, much like the kind of display offered by Pixel Qi, and can show eight levels of grayscale. Weighing in at 7.76 oz and measuring 6.2 x 4.2 x 0.2 inches, it's a slender newcomer to the e-reader stage.
The lithium ion battery is good for 7500 page turns (recall that e-readers only use power when you turn the page). It will support "Unsecured Text: EPUB File (Non DRM/ Adobe DRM protected), BBeB Book (Non DRM/ PRS DRM protected), PDF file (Non DRM/ Adobe DRM protected) and Text, RTF  and Word files (unsecured)," and go on sale for around $199.
The grey one is the Sony PRS600-SC, with a 6-inch display of the same resolution. It adds non-DRM AAC, MP3 audio, as well as JPEG, GIF, PNG and BMP images. All other specs are expected to be the same, except it has a touchscreen layer. This means fingertip page turns, annotations, highlighting, and more will be possible. It has an on-screen keyboard, 512 MB of memory (like the 300) and should sell around $299.
These new releases are exciting, of course, but if you have any sense you'll get a netbook instead. Just throwing that out there.
Via SlashGear.
Jul 23 2009
Sony executive Mike Abary has recently confirmed that the company will be releasing a touchscreen Vaio netbook in the future that takes advantage of the Windows 7 operating system. In his interview with Laptop Magazine (click here for the link), Abary said:
There are certain things that will be native on Windows 7 that we are certainly going to take advantage of. Without giving too much away, we think touch on Windows 7 is something we find compelling and we will certainly introduce touch into some of our products at the launch of Win 7. You will see touch capabilities introduced on VAIO products that take advantage of Windows 7.
It is currently uncertain what type of Sony Vaio the upcoming touchscreen netbook will be like, but it one fact is certain – the market for touchscreen netbooks will be sure to have more competition after the release of Windows 7 in the Fall of 2009.
Touchscreen netbooks may become a popular trend in the future, and a couple manufacturers are getting ready to come out with touchscreen versions of netbooks. Apple for one, is rumored to be releasing their MacBook Touch in the upcoming October.
Have any thoughts on touchscreen netbooks in general or on touchscreen netbooks of a particular brand? Feel free to let us know what's on your mind.
Via CNet.
Jun 16 2009
Many people associate the word "multi-touch" with Apple's iPhone, but Microsoft has been taking advantage of this concept as far back as 2001. It is rumored that some of the newest netbooks that are released with the Windows 7 operating system will also be released with multi-touch screen displays. Rumor also has it that this will happen sometime later this year.
Since netbook screens are relatively small, the ability to physically tap on the screen to scroll and zoom will be a godsend. It is predicted that even though Windows 7 and the multi-touch display will make the netbook unit more costly for consumers, these consumers will be nonetheless willing to pay extra for these features.
Touchscreen netbooks already exist, but for the most part, these are single-touch computers. Some examples of these are the Dell Latitude 2100 and the Gigabyte Touchnote. The Lenovo S10 doesn't offer a touchscreen, but it does offer a multi-touch trackpad as an upgrade option.
A multi-touch display has great potential to expand the capabilities of a netbook, and as soon as such devices hit retail stores, we may see a trend of people selling their old netbooks and buying up these new ones.
Via PCWorld.
Feb 16 2009
Xandros recently announced at Barcelona's Mobile World Congress that it would be offering a new turnkey software solution running on a unique processor: the Freescale i.MX515 featuring ARM Cortex-A8 technology. Freescale has been involved in netbook technology before, most notably when it assisted in the development of the Pegatron netbook.
The new release will focus on "fast boot, long battery life, and reliable 3G connectivity." It will come with a bundle of assorted Xandros software, as well as resources to help OEMs develop netbook products.
The 'Xandros solution' will also include an App Store with acess to all kinds of media, including "access to software, games, multimedia and web applications." And that's not all:
"Full-featured user applications include a browser, push-based email, PIM, instant messaging, a photo viewer, a media player, and an office suite to create and edit Microsoft Office documents."
Wow. All the features will work with both keyboards and touchscreen, meaning the Xandros concept will be portable to pretty much any netbook you'd like.
Freescale Marketing Director Glen Burchers mentioned Freescale's delight in being able to display Xandros on the advanced i.MX515 processor.
"Consumers demand low costs, high performance and long battery life, and the combination of Freescale's hardware and Xandros' rich feature set is expected to enable compelling netbook products that succeed in the marketplace."
Andreas Typaldos, Xandros CEO, added his viewpoint as well:
"The advanced Freescale platform enables us to quickly bring the powerful netbook experience that Xandros created for the Eee PC to ultra-low powered netbooks with always-on 3G networking and media support… This will blaze a trail for OEMs and carriers bringing full-featured, cost-effective devices with long battery life to new markets, and create recurring revenue streams."
The Mobile World Congress runs from February 16-19 this year in Barcelona, Spain. We're anticipating a great deal of new releases from Europe, though not nearly as many as during CES 2009.
Via MSNBC.
Feb 5 2009
We've seen some entirely excellent netbook mods over the past few months, most notably the Hackintosh netbooks, Super Mario Eee PC, and the TechCrunch CrunchPad. The latest in the line of modded netbooks involves some serious surgery on a Samsung NC10 to make its 10-inch screen touch-sensitive.
The culprits this time are over at Netbook Mag and threw together a guide for doing it yourself. It kind of looks like some kind of 90's infomercial, but if it does the trick it's good enough for me. Check it out  below.
Be sure to check out our other articles on touchscreen technology in netbooks.
Via Engadget.
Feb 3 2009
New netbook accessories are usually a reason to get pretty excited, but these new USB-powered touchscreens are enough to make even the most chilled out among us squeal with glee.
The screens are  usable on any system, but manufacturer MIMO intends for them to be channeled to the netbook market. Just pop it into your netbook's USB and you've opened the door for all kinds of technological endeavors.
The MIMO netbook touchscreens are 7-inch devices designed for use as secondary displays. Desktop PCs don't get to monopolize the fun anymore – now netbooks can manage two (or three? four?) screens at once also. You can tilt both models to landscape or portrait view.
The MIMO netbook displays are immensely cool, and definitely earn their place in the small but fascinating category of netbook accessories. One of the models, the UM-740, adds a few more USB ports, audio jacks, and a webcam/microphone combo that optimizes it for video conferencing through Skype or a similar program. The cheaper version, the UM-710, lacks those features but makes up for it by costing a mere $130 instead of the $200 for the UM-740 netbook tool.
The MIMO netbook displays connect through USBs, meaning "each MIMO is a separate video identity." Theoretically, you can add in as many touchscreens to your netbook as you want if you go with the UM-740 – it compensates for the USB port it takes up by adding a few of its own. This could make for some pretty crazy netbooking, depending on how much you're willing to drop on the touchscreens.
The new netbook accessories manage a moderate 800×480 resolution, and are expected to ship in the US in the very near future.
Via JKOntheRun.
Jan 2 2009
Some interesting things will be happening for netbooks in the near future, and the latest idea is a bigger variety of tablet-style netboks.
Small keyboards and screens can lead to a lot of frustration. This has led to a lot of speculation on newer touchscreen netbooks, such as the touchscreen Eee netbook next year.
Perhaps the iPhone will be the inspiration for 2009's netbooks. The technology exists for better touchscreen netbooks, from both a display and processor viewpoint. Touchscreens are simpler and more elegant, and with no need for a physical keyboard tablets may have more room for batteries. The upcoming 7-9 inch Apple iPhone should make use of these, and offer something for the industry to mess around with when thinking of its own new netbook designs.