Images of the Sony VAIO TT have been coasting about the net all the way since November, but it looks like this little guy's starstruck future has been cut off forever.
Axed by Sony, the death of the VAIO TT has got us thinking – is there a place in the netbook world for high-end ultraportables anymore? The VAIO TT could be pushed up to $4400 if you maxed out the specs (including dual SSDs and a Blu-ray drive), which certainly isn't an attractive number.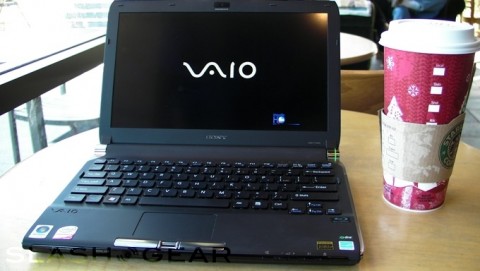 It all depends how willing manufacturers are to keep going into the space. Larger screen sizes that don't sacrifice mobility have been a major upside of netbooks, but considering the fact that the Vaio P (which Sony insists isn't a netbook) is still out there, maybe there's hope for machines surviving the onslaught of netbooks this year.
Regardless, let's all take a moment of silence for our friend the Vaio TT. Goodnight, sweet prince.
Via SlashGear.
May 18 2009
The Viliv S5 is technically a UMPC (ultra mobile PC), but has many similarities as a netbook. This mobile computing device has a 4.8″ touchscreen with 1024×600 resolution and runs on the Windows XP operating system. It is powered by an Intel Atom processor and has 1 GB of RAM and a 60 GB hard drive. The S5 also has Wi-Fi, Bluetooth, and a GPS.
The battery of this little device is quite impressive; it's able to last for roughly six hours (200 hours on standby).
The S5 UMPC has a solid build and is relatively easy to hold in one hand. The touchscreen features and GPS are also easy to navigate and use. Because of its small size though, the S5 only has one USB port and unlike regular netbooks, lacks a card reader, webcam, and microphone. Also, because of the small screen and high resolution, the icons and images on the screen are relatively small – but still very clear!
While the price tag for the S5 is a bit high ($599), its added portability makes it a worthwhile investment. Initially, this price tag included some extra accessories (an extra battery, a leather case, a car charger, and a car mount), but this deal has expired. Within the US, the Viliv S5 can only be purchased from an import specialist, such as Dynamism.com.
Via Switched.
May 11 2009
The latest device released in the name of confusing the hell out of you is the LonMID M100, which isn't a mobile phone but isn't quite a netbook either.
Featuring an 800MHz Atom Z500 processor, the Intel Poulsbo chipset, 1GB DDR2 RAM, 4GB of SSD storage, a 4.8-inch 800×480 display, and a miniscule QWERTY keypad, the LonMID M100 packs a punch for its size. On the other hand, the device has an alphanumeric keypad on the back, Bluetooth, and Wi-Fi – making nus think it could be a phone.
Regardless, we can't get too frenzied about it because the MD100 is just a prototype so far. We'll keep looking out for news of a planned release, but in the mean time all we can do is wait.
Via PMPToday.