Essentially the combination of a smartphone and netbook, Inventec's Dr. Eye mobile internet device (MID) is a great example of the next big thing in technology.
The Dr. Eye MID features a full QWERTY keyboard, as well as an 800×480 resistive touchscreen, which gives users the option of typing on the screen or on the keyboard.  The MID is powered by a 600MHz Marvell CPU and runs on the Android 2.1 operating system, and is equipped with a front-facing camera and a 3-hour battery.
Dr. Eye comes in three different models, which all have the same hardware but different connectivity options.  The N18 model has only Wi-Fi capabilities, while the N23 model has CPRS connectivity, and the N31 model has full 3G capabilities.  Pricing for the MIDs will range from around $350 for the N18 to just under $500 for the N31.
According to Inventec, they are not positioning Dr. Eye as an iPad competitor nor a consumer device necessarily.  Their main market, at least for now, is mainland China, where they are targeting the education market, selling the MIDs to Chinese students who want to do video calls with American teachers in the United States.  One of the company's next steps might be to bring the device to the United States.  There are rumors that they'd be up for doing that, if they can find an appropriate distributor.
Via LaptopMag.
Nov 12 2009
Mobility is key in the netbook world, and manufacturers are always racing to pack the most punch into the smallest space, provided they can do so at a price amenable to consumers. New technology has a huge impact on netbook makers' ability to do just that, and the new SkyCross iMAT antenna is the next logical step in netbook improvement.
The Skycross iMAT antenna is meant to combine multiple functions into one device – an antenna that supports simultaneous Bluetooth and Wi-Fi connection. By providing 35 dB of isolation between Bluetooth and Wi-Fi signals, the new antenna will allow netbook users to access both without interference.
By cutting out the need for Wi-Fi cards and Bluetooth models, some netbooks implementing the SkyCross iMAT antenna will have room for accessories like 3G cards or flash memory.
Via I4U.
Oct 14 2009
It can be a bit annoying to deal with Wi-Fi issues, which definitely put a damper on your netbook experience if you're just trying to check something online or print a document at a friend's house. Wi-Fi currently requires Wi-Fi devices to connect to each other through the medium of a home network, making them far less efficient than Bluetooth.
Thankfully, the Wi-Fi Alliance has taken the hint and introduced the all new Wi-Fi Direct.
The idea is to slim down the connecting process by eliminating one leg. It would allow wireless devices to connect to each other directly without joining a network – just connect your netbook to the printer and print. The applications of this are quite interesting to think about –  playing music on Wi-Fi speakers though they're on a different network, for example. Wi-Fi direct will make things faster and easier, which is the whole point of netbooks.
The new specification should be available by mid-2010.
Via I4U.

Aug 23 2009
I'm sure many of the frequent flyers out there must be jumping up and down in joy by now. And why not? One of the top airlines in the US has just announced that Wi-Fi will be available on their future flights!
Southwest Airlines has just finished testing their Wi-Fi system on four of its planes and is planning on expanding this service to its entire fleet as early as next year.
During the testing period, the passengers were able to use laptops and smartphones to test out the Wi-Fi connection. People checked their e-mail, streamed video, and browsed the Internet. (Unfortunately, VoIP and video chat are not allowed, as this would be disturbing to other passengers.)
Southwest is satisfied with the technical performance of their Wi-Fi system, and more importantly, the passengers (testers) were satisfied as well.
Unlike other airlines that use an Aircell satellite-based broadband service to provide wireless access to its customers, Southwest will use Row 44 for its Wi-Fi system.
Now, all the airline needs is to come up with a pricing structure for providing Wi-Fi service. Southwest plans on announcing this before the end of this year, and we'll be sure to let you know when they do.
Via Electronista.
Image via Wired.
Jul 30 2009
More and more telecom companies are jumping on the netbook train and tying the sale of subsized netbooks to their overpriced data plans, but what if you don't want to dish out hundreds of dollars for a mobile data plan?
Well, the following may help. Barnes and Noble Booksellers has recently made Wi-Fi Internet access complimentary and unlimited at all their retail store locations. The bookseller has actually had an operating Wi-Fi network since 2005, but this was previously only available to AT&T customers.
Through the Wi-Fi network, customers would also be able to receive personalized messages from B&N. This includes coupons and notices about store events.
One of the main reasons that Barnes and Noble had decided to provide complimentary Internet access at all its retail locations was to bolster the e-book side of its business. B&N has jumped on the e-book train and is planning on riding it full steam ahead.
With many Barnes and Noble locations throughout the United States, netbook users who don't purchase their netbooks from telecom companies are able to more easily access the Internet, which is always a good thing. But will this ultimately have an impact on telecom companies' overall netbook sales?
Via JKOnTheRun.
Jul 16 2009
At long last, ASK NBB #7 is available for your reading pleasure. Today I'm discussing the virtues of wireless internet with the mother of a college student, and perhaps you can learn something too.
We've got six other questions on ASK NBB, but if they don't strike your fancy, be sure to ASK your own question instead!
__________________________________________________________________________
Interested in getting your own question answered on ASK NBB? Here's how! Be sure to check out ASK NBB #3 for my projections for the future of the netbook industry, or ASK NBB #4 for some discussion of the evolving Eee PC.
Jun 19 2009
Huawei showcased a new device at CommunicAsia 2009 with interesting implications for netbooks – the E583X wireless modem. The new HSDPA modem isn't shaped like a flash drive to be plugged into your netbook's USB port – it's completely wireless.
The E583X sends a Wi-Fi signal out to your machine to connect to wirelessly, much like a Wi-Fi hot spot you'd see at an internet cafe. You can tuck the modem away and let it function completely wirelessly for up to 5 hours. If you don't want to rely on its battery, you can always charge it the traditional way via USB.
Netbooks usually only have 2 USB ports, and freeing one up for use with other awesome netbook accessories is an attractive prospect. But if that doesn't motivate you, maybe this will – upcoming iterations of the E583X will allow up to 5 users running a single cellular connection to get Internet access wirelessly.
The new Huawei product will be sold through mobile operators this July in Europe.
Via CNet.
Dec 24 2008
Prepare yourself for an insanely cheap netbook. Belco is releasing its new machine the full-flash Alpha 400 for a dead low $169.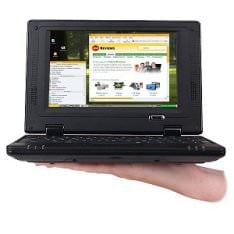 The meager specs are expected given the excellently low cost. It has a 7-inch display, 128 MB RAM, 1 GB internal memory, and a 400 MHz MIPS processor. It also comes with a 10/100 Ethernet interface and WiFi.
Other bonus features include a SDHC memory card slot, where you can add another 32 GB of storage. It runs Linux and comes with vaguely described "business software."
Via GearLive.
Dec 11 2008
ASUS has begun to upgrade its Eee PCs with Atheros XSPAN 802.11n technology. This will lead to an improved level of wireless networking for ASUS netbooks over the previous iterations of the wireless tech, the 802.11b and 802.11g.
The Eee PC S101 will be the first netbook with XSPAN. IT will also run Atheros' "single-chip, single-band 1×2 MIMO-enabled PCI Express design," and be capable of transferring 150 MB/s in transit mode. It will have a PHY rate of 300 MB/s in receive mode.
Ben Naskar, VP of Atheros' Wireless Networking Business Unit, was in a good mood. "We are pleased that Atheros XSPAN single-chip technology has been selected by Asus to enhance the wireless connectivity in its advanced line of Eee PC Netbooks."
"Asus is a pioneer in mobile computing design with its sleek form factors, user-friendly ergonomics and advanced features."
Atheros' biggest claim is that its XSPAN technology will extend the battery life of netbooks. Atheros cites its "Dynamic MIMO Power Save and Unscheduled Automatic Power Save Delivery" to back this claim. It sounds good, anyway.
Users should also expect to experience faster Wi-Fi transfers, which will further boost power conservation.

Nov 24 2008
Packard Bell is joining the frenzy of new netbooks this season, coming to the fore with its new Dot to be released this January.
As in the case of the Epson Endeavor, which we covered in our November 19th article, the new Packard Bell netbook seems aimed at competing in terms of cost and nothing else.
The Dot netbook will feature – as if we need to tell you – the 1.6GHz Intel Atom chip, 160 GB of storage, 1 GB RAM, Windows XP, and Wi-Fi. Mildly notable is its five-in-one card reader, and the fact that a 3G version should be forthcoming in the near future.
Packard Bell is not particularly well-known for avant-garde ideas but is certainly a competitor in nearly every market it joins. However, that hasn't stopped netbook review sites from criticizing the Dot's almost completely standard hardware and capabilities. Gizmodo, mocking the trend that netbooks have taken towards the mainstream, joked that in the future we should "look for netbooks to be fashioned from straw, beads, puff paints and other craft materials as they are hand-manufactured to raise money for local soccer teams."
We can't really say they're wrong – at one point, netbooks only ran Linux, which is notoriously unfriendly to the consumer of average technological competence. Now XP is standard, with toys such as webcams and touchscreens becoming the norm. When the ASUS netbook, Wind netbook, and Mini-9 came to the market with similar statistics as the new Dot they were carving out a new market – however, by technological standards, Packard Bell is late in the game. We should be expecting better things at this point.
Regardless, there remains the possibility that the Dot will be very cheap, a factor that may be its only boon when it hits the market. We've got no complaints about that!
Check out Gizmodo's review here.
Nov 19 2008
Described as "slightly frumpy" by Engadget and "not the sexiest looking mini-lappy" by UK tech blog Electricpig, the Endeavor has been turning heads – if not in the best way possible. Judge for yourself: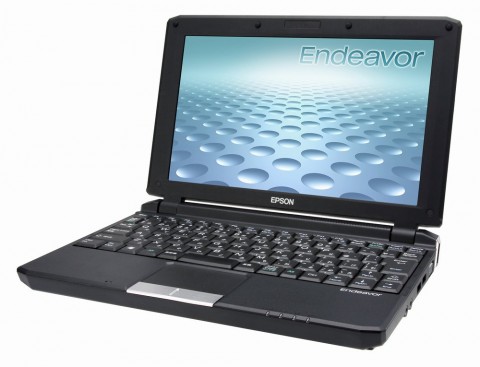 The Japanese company has started its foray into netbooks in a very uncontroversial way. Largely known for its printers and projectors, Epson's simple contribution will offer little in the way of novelty, but will take the role of being one more netbook up for purchase.
Running the common 1.6 GHz Intel Atom, the Endeavor is no record breaker. It has 1 GB of memory, a 160 GB hard drive, and Wi-Fi. It features USB 2.0 and a 10.2 inch 1024 x 600 LCD screen.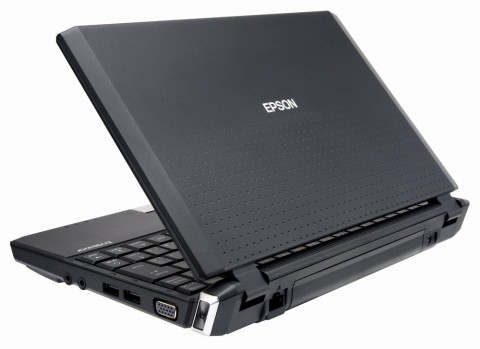 To be fair, it should be a competent competitor for the ASUS Eee and MSI Wind, if an undistinguished one. The Na01 is somewhat compact at 1.5 inches thick and weighs 2.82 lbs. The price at the moment is a solid $484 (46,800 JP), a certainly comparable price.
The uninteresting but capable Endeavor will run XP, and seems a valid option for new buyers in the market. For now, it's only available in Japan, so we'll have to wait to see how it performs in the States. Stay tuned.
Nov 19 2008
The new Toshiba NB100 netbook has hit the market, boasting a few enticing features to differentiate it from the competition.
The Toshiba features the same Atom processor used by the Eee PC, MSI Wind, and Mini-9. At a standard 1.6 GHz with Wi-Fi, bluetooth, Ethernet, USB ports and a memory card slot, the NB100 seems somewhat basic in most areas. There is one aspect to the netbook, however, that I think is something to be excited about.
The most fascinating thing is that the USB connectors on Toshiba's first netbook are designated 'sleep-and-charge'. What this means is your USB-connected devices (cell phones, MP3 players, etc.) can be charged through the netbook without you needing to even turn on the machine. This step seems to be part of a new wave of efforts (that we noted in yesterday's article) towards improving the efficiency of these devices. With business travelers and college kids not needing to carry around as many power adapters, this feature will definitely make the NB100 all the more attractive to the netbook market.


The flip side here is that the keyboard of the Toshiba NB100 is sadly somewhat imperfect. While it may not be an issue for the more enduring among us, typing for long periods may become uncomfortable and difficult. Instead of being appropriate for the 8.9-inch size of the thing, the keyboard seems as though it were built for a 7-inch netbook. While netbooks like the Dell Mini-12 (which we covered a few days ago) have shown a trend towards improved keyboard usability on smaller devices, the Toshiba NB100 is somewhat substandard in this respect.
Personally, the sleep-and-charge feature sounds interesting and intelligent, but not worth the small keyboard. However, with its first netbook certainly up to par in other areas, Toshiba looks to be willing to experiment with the netbook market. We should expect some promising things in the future.