Chinese computer manufacturer Hongrun Electronic is releasing a new mobile internet device (MID) to the market.  The MID700 tablet will feature a 7″ screen with 800×480 resolution, 256MB of DDR2 RAM, and 2 GB of flash storage.  It will be powered by an 800MHz Telechips TCC8901 chipset and run on Windows CE 6.0.  Other features of the tablet include a mini USB port, an SD card slot, and an HDMI port. The MID700 is also able to support 1080p videos.
There's no word about how long the device's battery will last, and unfortunately the resistive touchscreen won't provide the best experience that money can buy, but the MID700 also supports stylus input.  At least it's relatively small, portable, and somewhat cute.  The tablet, pictured below, retails for roughly 980 Yuan, or about $145 U.S.
Via ClonedinChina.
Nov 13 2009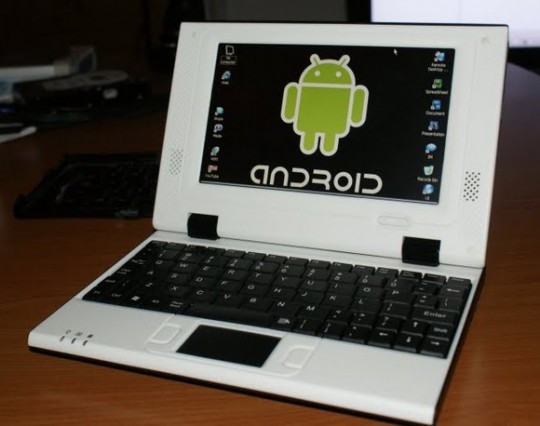 The $100 netbook used to be the Holy Grail of the PC industry, and while mainstream manufacturers haven't touched the price point (broadband netbook deals don't count) a select number of netbook makers have gone to $100 and below.
MenQ is the latest in the rush for the cheapest machine, and this time it costs a mere $80.
So what will 80 bucks get you? The EasyPC E790 has a 7-inch 800 x 480 display, Samsung ARM926EJ-S3C2450 CPU, and Windows CE. However, if you're not a fan of CE, Google Android will be getting a firmware update this month. Word has it an ARM Cortex 8 CPU could show up later for $10-$20 more, but the extra speed will definitely be worth it.
You can't buy directly from MenQ, and there's no word on when this little guy will be available. In the mean time, check out Charbax's video review of the MenQ EasyPCE790 below.
Via SlashGear.
Nov 4 2009
Black Friday is expected to bring a slew of supremely cheap netbook deals to the forefront of many retail windows. The latest example of that trend is Delstar's DS 700 netbook, selling for $120 on KMart after Thanksgiving this year.
The machine is made by Chinese developer Delstar and comes with a 7-inch screen, Windows CE, and an ARM CPU. Windows CE is an unpopular choice for netbooks but in this case it's keeping prices unbelievably low.
The Delstar DS 700 netbook is a bit underpowered but comes with Internet Explorer, a PDF viewer, and support for Microsoft Office files. This could mean the Microsoft Office Mobile package or something similar, considering that Delstar has mentioned a "document creator," "spreadsheet creator," "presentation creator," and "media player".
Here are the specs from WindowsforDevices:
Processor — 400MHz Samsung SoC
Memory — 128MB of RAM and 2GB of flash storage
Display — Seven-inch screen with 800 x 480 pixel resolution
Expansion — SD slot
LAN — 10/100 Ethernet
WLAN — 802.11b/g
3 x USB 2.0
Microphone jack
Headphone jack
Battery — Three-cell, lasts for three hours
Dimensions — 9.75 x 6.5 x 2 inches
Weight, including battery — under 2 pounds