Blockbuster has announced it will be selling Archos 10 netbooks in 1,000 locations around the country. The 10-inch netbook will go for $300.
Unfortunately, the Archos 10 doesn't have a optical drive – why doesn't Blockbuster shell out the Eee PC 1004DN instead?
To make up for the lack of DVD playing capability, Blockbuster is reportedly bundling a few free movies and embedding a link to Blockbuster.com in the new netbook.
The Archos 10 has an Intel Atom processor, 1 GB of RAM, a 160 GB HDD, Windows XP, and a webcam.
Via SlipperyBrick.
Jul 2 2009
Archos is blurring the line between netbooks and portable media gadgets with its new Archos 9PCtablet. It's a 9-inch Atom-powered tablet PC, and promises more in the way of entertainment than your average netbook.
The 9PCtablet has an optical trackball, and looks a lot like a Viliv S7. Of course, the Viliv devices have tiny screens in comparison.
The Archos 9 will be out this fall with Windows 7 as the OS. It uses a 1.2 GHz iteration of the Intel Atom, which may or may not give the kind of performance we're used to from the 1.6 GHz Atom N270 or 1.66 GHz N280.
Archos supplied specs for the new 9PCtablet:
Processor: Intel Atom Z515 1.2 GHz
Video Chipset: Integrated US15W
Operating System: Microsoft Windows 7
System Memory: 1GB (DDR2 400/533)
Display: 8.9" touch screen – 1024 x 600 pixels
HDD: 60GB or 120GB
Communication: Ethernet 10/100
WiFi: PCI-E interface, 2 Antennas, Support IEEE 802.11b/g
Bluetooth 2.1
Optional 3.5G HSUPA – Huawei EM750M 7.2Mbts module
Audio: 2 stereo speakers
Built-in Microphone
Optical Finger Navigation System with Right and Left click buttons
1 USB 2.0 port
Audio/headphone output
Web cam: Built-in 1.3MP camera
Archos will be releasing black and white versions of the new tablet netbook. Other options include a 60 or 120GB hard drive and a 3.5G HSUPA antenna.
Via CNet.
Jun 22 2009
The Archos Classmate netbook was originally developed as an initiative for elementary school students in France, but will now be available to the public.
This netbook was originally designed for young children. It includes a carrying handle ergonomically integrated into the netbook itself. The child-friendly Classmate also has a shock-proof case and a water resistant keyboard.
In addition to the netbook, Archos is also offering a one-year subscription to Maxicours (worth roughly $350), a website that provides tools for online home learning.
Students can register at maxicours.com and receive access to a wide range of educational software applications to help them develop their skills in various academic subjects. Some items that the website features include interactive exercises, videos, and multi-language dictionaries.
Just because the Classmate was originally designed for children, doesn't mean that Archos skimped on the hardware for adequate netbook performance. This netbook has a 9″ screen and is powered by a 1.6GHz Intel Atom processor, must like any average netbook. It also has 1 GB of RAM, a webcam, Wi-Fi, and Windows XP (Family Edition) for the OS.
Via TheDigitalNewsRoom.
Jun 11 2009
Archos has recently released their 10s model netbook, which is a slight upgrade from their 10 model, mostly in terms of aesthetics. Otherwise, these netbooks actually have many similarities.
The "s" in the Archos 10s model name stands for "slim." This netbook measures 22.5m in thickness and weighs a little over 2 pounds.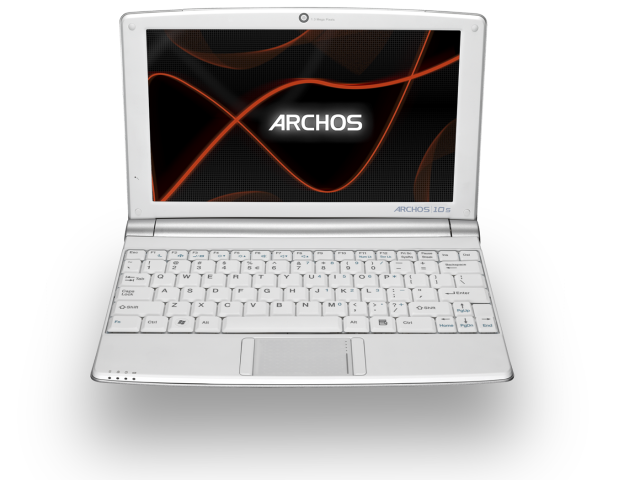 Both the 10 and 10s models are powered by a 1.6GHz Intel Atom N270 processor and 945GSE chipset. These netbooks come with 1 GB of RAM and a 160 GB hard drive. Some other tech specs include Wi-Fi, USB ports, a card reader, and a 1.3 megapixel webcam. Battery options include either a 3-cell or 6-cell.
The price of the Archos 10s has not yet been announced, but this netbook is rumored to be released sometime in June.
Via NetbookChoice.
Jan 14 2009
Archos' has reported a new entry into the netbook category,. Unfortunately, the idea isn't quite as revolutionary as the Internet Media Tablets of the company.
It's yet another netbook though, successfully blending in with a 10-inch 1024×600 display, 1.6 GHz Atom, and 160 GB HDD. The netbook is of the OEM/Hasee MJ125 design and is called the Archos 10 netbook.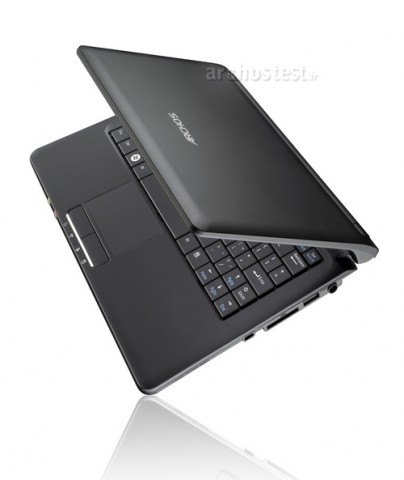 The netbook will support both 3-cell and 6-cell batteries and Windows XP Home. It has USB 2.9, ethernet, VGA output, an audio port and a 4-in-1 memory card reader.
We haven't heard much about pricing or availability. Right now it sports an AZERTY keyboard for the French market, but that would be simple to rearrange were it ported to the US. The €400 price is about $532 once converted, but that's unofficial. Check back for more on the Archos 10 netbook.