FIC has a new netbook ready for the masses. Designed for "socializing and education," the new SVE00 runs a 1.66 GHz Atom CPU and a 10.1-inch 1024 x 600 pixel LED screen.
Weighing in at 1.2 kg, the SVE00 supports up to 2 GB of RAM and storage options from a 32 GB SSD to a 320 GB hard drive. Other features include a 1.3 megapixel webcam, two USB ports, VGA-out, a card reader, Wi-Fi, Ethernet, and the option of Bluetooth. The SVE00 also supports WiMax, HSDPA, and SIM card technology as well as an "ultra size" multitouch trackpad and spill-proof keyboard.
Pricing and availability aren't known just yet for this new netbook, but what we do know is that consumers will get the option of running XP, Windows 7, or Linux on the SVE00.
Via TechSpot.
Jan 1 2009
While the netbook segment is rife with options, customizations, and alternatives, it seems manufacturers are having some difficulty differentiating their machines. FIC's new 10.4-inch netbook, the CW001, seems to have this problem.
We thought we were moving away from standard-issue netbook configurations with the introduction of newer Intel processors, but the CW001 falls back on the same old 1.6 GHz Intel Atom. It has 2 GB DDR2 RAM, a 2.5-inch SATA-II hard drive and an ExpressCard slot. It might have gotten points for the optical drive it was rumored to have, but that never came though.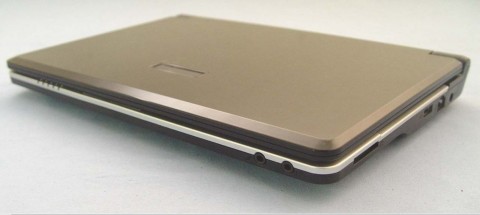 It also comes with two USB 2.0 ports, Bluetooth, WiFi b/g, and a 1.3-megapixel webcam.  It gets 4.5 hours of juice with its 4-cell battery and likely runs Windows XP.
FIC owns a majority of shares in Everex, so that could mean some big things for the CW001, such as Cloudbook branding. The price of the FIC CW001 is as of yet unknown.
Via SlashGear.