Although the new Atom N455 and N475 chips haven't seen any speed increases, they now have DDR3 capable memory controllers. This will improve system performance because the rate at which data is transferred between the CPU and memory will be quicker.
HP and Fujitsu have both announced their intentions to use the Atom N455 and N475 in future netbooks. HP will be updating their mini 210 netbook and Fujitsu will be updating their MH380-1A netbook. Pricing for neither netbook has been released at this time.
The Fujitsu MH380-1A will be available June 17, 2010. It is still unknown when the HP mini 2010 netbook will be available.
Jun 9 2010
Fujitsu Japan has just introduced one of their newest netbooks, a netbook powered by one of AMD's new 2010 netbook processors — a 1.7Ghz single-core AMD Athlon Neo K125 processor.
Some other tech specs of the Fujitsu PH520 Lifebook netbook include:
11.6″ screen display with 1366 x 768 resolution
AMD M880G chipset
2 GB of RAM
320 GB hard drive
Ethernet
b/g/n/ Wi-Fi
3 USB 2.0 ports
HDMI, VGA, card reader, audio jacks
Windows 7 Home Premium 32-bit
1.3MP Webcam
This Lifebook netbook also comes with a six-cell battery, which is expected to last for about 6.2 hours.  The netbook weighs in at 1.4 kg — pretty standard for a netbook.
There's another similar Fujitsu netbook that is powered by an Intel Celeron SU2300 processor.  It features a similar shape, but the chassis has a larger keyboard and trackpad.
Via PCWatch.
Mar 31 2010
Fujitsu is releasing the all new MH330 netbook for a price that's truly earthshattering, by Fujitsu's high standards: $499.68 USD. It's a Pine Trail netbook, and its price point is about the same as what you'd expect for the features it comes with, which are listed below.
One interesting aspect of the netbook is its DVD Sharing application, allowing the netbook to access your desktop's DVD drive. The Fujitsu MH330 netbook also comes with a spill-resistant keyboard.
Fujitsu LifeBook MH330
1.66GHz Intel Atom N450 processor
1GB RAM
10.1-inch 1,024 x 600 display
250GB
Integrated Intel GMA 3150 graphics
802.11n Wi-Fi, Bluetooth and Ethernet
Three USB ports and VGA-out
Spill-resistant keyboard
Windows 7 Starter
Black or red color options
You can expect the Fujitsu MH330 netbook to ship in Asia this April, and hopefully in the US soon after.
Via CNet Asia.
Feb 4 2010
Fujitsu is a brand that doesn't seem to garner much attention in the American consumer market. Still, it has been known for making sleek products and appealing to more of a high-end/business user-base.  So without much fanfare, Fujitsu officially announced the LifeBook T900 Tablet PC and pricing for the LifeBook UH900.
The T900, in many senses, is your typical Tablet PC. It is essentially a rehashing of their older 13.3″ T5010 tablet, but with a significant performance boost.   You get your choice of Intel Core i5 520M, 540M, or Core i7 620M processors, and your typical 2 GB RAM, 160 GB HDD, DVD-RW, and integrated Intel graphics.  With special bonuses like biometric scanners, ambient light sensors, and  user-cleanable dust filters, this one will start at $1,889.
On the cheaper end of the Fujitsu spectrum (which really isn't all that cheap), the Lifebook UH900 is a mobile internet device (MID) that premiered at CES 2010. This is equipped with an Intel Atom 1.6 GHz Z530 CPU, 2GB RAM, a 62GB SSD HDD, 802.11b/g/n, Bluetooth, and GPS plus Windows 7. All on an itsy-bitsy 5.6″ multitouch screen.  This is all highly impressive, but whether or not that justifies a $999 MSRP is up for you to decide. If you believe so, then you'll probably appreciate the fact Fujitsu is currently selling it for $849.
Dec 21 2009
Fujitsu's newest netbook rocks an Intel Atom N450 CPU in addition to a 7-hour battery life. Considering some of the other features it has on board, it could be a major contender in the netbook category.
Christened the LifeBook MH380, the netbook has a 10.1-inch 1366 x 768 pixel display, 5400 rpm 250 GB HDD, and USB-based file sharing software. The Fujitsu Lifebook MH380 comes in "Gorgeous Brown," "Ivory White," and "Diamond Black." It features a 1.3 megapixel webam, Ethernet, 802.11b/g/n Wi-Fi, and Bluetooth 2.1.
While, like most netbooks, it won't have an optical drive, the Fujitsu netbook comes with software that allows it to acces the drive of a desktop PC. The US version will run Windows 7 Starter Edition and come with a 60-day trial of Microsoft Office Home and Student.
Paul Moore says the new Fujitsu LifeBook MH380 will be a game changer:
"The LifeBook MH380 mini-notebook represents the next generation in this class of product. Users will experience better performance while maintaining a very lightweight affordable PC."
It sounds great for now, but I'll hold off on making a judgement on just how awesome this thing is until I see pricing information.
Via WindowsForDevices.
Nov 25 2009
Pineview netbooks are starting to pop up left and right. Here's one that's recently been spotted on the FCC's website – the Fujitsu Lifebook MH380. The rumored tech specs so far include a 10.1″ screen display with 1366×768 resolution, a 1.66GHz Intel Atom N450 CPU, Atheros 802.11 b/g/n Wi-Fi, and Realtek 8103EL-GR 10/100 Ethernet.
RAM is rumored to be 2 GB DDR2 and storage is rumored to be 160 GB or more. No other news is yet available on this netbook, but since it's a pre-production sample, specs could be very likely to change. We'll keep you posted on any developments.
Via WirelessGoodness.
Oct 19 2009
In addition to the Fujitsu Lifebook P3110, Fujitsu will be releasing an entire product refresh spanning tablet PCs, notebooks, and netbooks.
The new additions to the Lifebook line are going to implement the new capabilities offered by Windows 7, including its touch sensitivity, says senior director of mobile product management Paul Moore:
"Windows 7 complements our products, in part, because it is touch-aware… We can add a lot of value for first responders, health-care providers or educators with the new OS."
One offering will be the Fujitsu Lifebook T4410 tablet, a 12.1-inch convertible machine designed as a business solution for vertical markets. One possible application will be in health care, where providers can navigate the hardware easier using their fingertips.
"There's a lot of value-add for convertibles because they aren't as commoditized yet. The T4410, for example, meets the needs of users working on their feet."
Fujitsu's tablet PC will be available for $1199. Another version, the Lifebook T4310, will arrive as a consumer version of the tablet.
The Lifebook P3010 is an 11.6-inch netbook based on an AMD processor with 2 GB of memory. It is priced at $549 and comes with 3 USB ports and a 6-cell battery.
Via CRN.
Oct 14 2009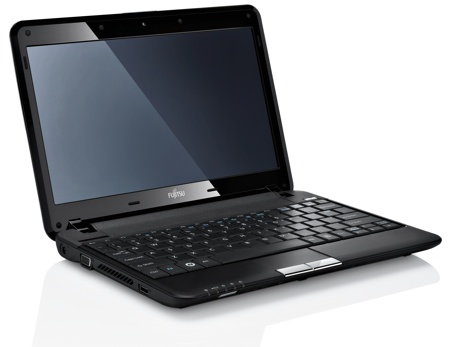 Fujitsu is rocking the netbook industry boat this fall with a new 11″ CULV laptop offering called the Fujitsu Lifebook P3110.
As far as we can tell, it's not a netbook – it runs a choice of either the single core Celeron 743 or Pentium SU4100, or the dual-core Core 2 Duo SU7300 CPU.
In nearly all other aspects, it's a netbook. The machine has 3 USB ports, an SDHC card slot, Ethernet, and VGA. We're still in the dark about other specs, but as the November 9th release date crawls closer we expect more details. What we do know is that a 3G HSDPA version is on the way, and that the Lifebook P3110 will come in red, black, and silver.
Battery life should be about 6 hours, and each CULV laptop will come with up to 4 GB of RAM and 500 GB of space on the HDD. Also included are Wi-Fi and Bluetooth.
The 3G models come out on November 23, and will most likely come bundled with Windows 7.
Via RegHardware.
Jun 15 2009
The Fujitsu Lifebook M2010 may come in one of several eye-catching colors, but otherwise, it's pretty ordinary. The performance of its battery even lags a bit behind the competition.
The M2010 has a 10.1″ screen with 1024×576 resolution, is powered by a 1.6GHz Intel Atom N270 processor, and has 1 GB of RAM and a 160 GB hard drive. Some other tech specs of this netbook include three USB ports, an SDHC card reader, a webcam, and Bluetooth.
This netbook has a two-tone, hard plastic case that comes in a variety of colors, including Ruby Red (pictured above). The screen has a glare-reducing coating. The keyboard on this machine is a bit on the small side, but at least the arrow keys are relatively large. The touchpad of the M2010 has a nice, textured surface and is of roughly standard size.
This little netbook's performance is average as well. It scores a 34 on the WorldBench 6 (a Windows benchmarking tool offered by PC World Magazine), placing it in the medium range of performance among netbooks.
The battery life of the Lifebook M2010 is nothing to boast about though. Fujitsu claims that the battery of this netbook lasts for roughly 2.5 hours, but when tested, it was closer to 2 hours. This is measly, especially when compared to the battery lives of netbooks like the Samsung N110, whose battery can last for up to 9.5 hours.
Fujitsu made a bold move by releasing this netbook, but the results aren't so bold. Don't be deceived – the Lifebook M2010 is the Average Joe of netbooks.
Via PCWorld.
Jun 2 2009
Tuesday is expected to bring an exciting announcement – Fujitsu will be entering the North American netbook market, which it had earlier avoided in favor of European and Australian markets.
The new M2010 is a Ruby Red clone of just about every other netbook, with Windows XP, a 160GB HDD, 1GB of RAM, and a three-cell battery.
The screen size is 10 inches this time around, rather than the 8.9-inch model previously sold in Europe. Senior product director Paul Moore explained why:
"We didn't bring it to North America because it was an 8.9-inch screen. At that time the feedback we were getting was 8.9 was too small."
Even Dell is announcing similar feedback, focusing in on bigger netbooks by shutting down its 9-inch Inspiron Mini netbook line.
And Fujitsu isn't the only one making this announcement. Toshiba is set to join North American markets with its NB205 netbook, an update to the NB200, announced Monday.
Via CNet.
Apr 29 2009
After the successful release of the Fujitsu M1010, the company has decided to release its second netbook, the Fujitsu M2010. This netbook will be available in four colors: Diamond Black, Fiery Red, Ivory White, and Salsa Purple. It's dimensions are roughly 10.16″ x 7.44″ and it weighs a little over 2.2 pounds.

The Fujitsu M2010 has a 10.1″ screen and comes with Thinkfree Mobile OfficeSuite software. With this software, users will be able to easily create documents, spreadsheets, and presentation slides. The M2010 also comes with Bluetooth, a 1.3-megapixel webcam and digital microphone, and stereo speakers.
Via DesignTaxi.
Apr 29 2009
Japanese manufacturers Toshiba and Fujitsu have announced two netbook releases.
The Toshiba netbook is the 10-inch NB200 netbook, an update of the classy Toshiba NB100. It uses an Intel Atom N280 chip.
Fujitsu, to contrast, is entering the game with the Loox M, the first netbook it's designed itself.
Check out this video at PCWorld for more info on the netbooks, and stay tuned right here for more news on the new releases.
Dec 16 2008
Fujitsu has just launched its first netbook, the M1010. We'd love to find something distinguishable about it, but it's basically a carbon copy of every other netbook. Check it out:
Features:
8.9-inch screen
Intel Atom processor N270 (1.6GHz, 512 L2 Cache, 533MHz)
60GB HDD
1GB RAM
1.3MP webcam
Bluetooth, 802.11b/g
Windows XP
[via Gizmodo]