MSI, well known for their graphics card and mainboards, are ready to unveil a new product, albeit a slightly recycled idea. Prepare yourselves for the Graphics Upgrade Solution, otherwise known as GUS. The external graphics card interface enables notebook users with weak graphics power to supercharge their capabilities by over 19 times.
The idea isn't all that new however, as companies such as AMD and Asus XG Station already tried and failed at a similar attempt. Express Card interface is something that presents a problem in this kind of endeavour, but apparently MSI was able to use over 70 percent of the theoretical bandwidth by innovating the design with a shielded copper cable. MSI also plans to move it to the USB 3.0 interface in due time. GUS will most notably be used with mainstream graphics cards like the HD 5670, seeing as it would be unnecessary to use it on higher performance laptops. One particularly interesting feature of GUS is that it has multi-monitor support, enabling up to four simultaneous display outputs, including the notebook.
While this won't be an incredibly significant boost for notebooks, it will be enable some gaming for certain notebook users. It remains to be seen if such a feature will find its way to netbooks soon.


Via Fudzilla, image via Fudzilla.
May 24 2010
Seagate is releasing a new hard drive for laptops this week called the Momentus XT. It is unique because it will contain a standard hard drive with a 4 GB solid state hard drive.
The spinning hard drive is available in 250, 320, or 500 GB sizes, all of which have 7,200 rpm. It boots in twice as much time as a 5,400 rpm hard drive and increases performance by keeping regularly accessed data in the SSD using Adaptive Memory technology.
The Momentus XT boots like any other hard drive the first time it is used, but by the third time, it starts to learn the user's habits and can boot twice as fast. The data in the SSD part is mirrored in the regular spinning part just in case the SSD part has problems.
The target market for the Momentus XT is power users, especially gamers. The most expensive model is $156.
Via ChannelWeb, image via TG Daily.
Apr 18 2010
Okay, I'll admit that FarmVille can be an addictive online game, but what happened in the following case is just absurd.
A 12-year-old boy in Britain recently racked up $1400 (US) worth of debt in Zynga's online farming game.  After using about $440 of his own money to buy items in the game, the boy then used his mother's credit card to buy another $950 worth of items — and without her permission too!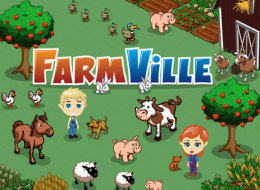 Neither Zynga nor Facebook will refund any of the consumed funds as long as the son lives under his mother's roof, but Facebook has disabled his account. HSBC, the bank to which the funds were charged, refused to refund the charges, saying that the mother "would only qualify for a refund if she reported her son to the police and obtained a crime number."
Via HuffingtonPost.
Mar 20 2010
HTML 5 has exciting prospects for web applications.  It will hopefully result in the end of plug-ins, like Flash, and allow for a more universal standard across the internet.  One possibility would to be able to have 3D graphics in web pages.  The result could be high-end games directly available on web pages, not suffering from the performance load caused by Flash.
This isn't just hypothetical stuff; the Mozilla Foundation along with Opera, Apple, and Chrome are all working to make this real with WebGL, a JavaScript library which allows for 3D rendering.  The only problem is it requires OpenGL support, something which is lacking on many Windows PCs.  So Google has announced its plans for ANGLE,  a "cross-platform web standard for accessing low-level 3D graphics hardware".  Basically, it's a way for Chrome to use Direct3D in place of OpenGL on Windows machines.
It is interesting to note that this announcement comes on the heels of Microsoft's release of its new IE9 platform, which introduces HTML 5 and Direct2D hardware rendering.  It showed off some very impressive SVG based demos.  Google is taking the Microsoft threat very seriously, and has an added stake due to its browser based OS, Chrome OS.
Via Gizmodo
Mar 15 2010
MSI, creators of the oh-so-popular Wind line of netbooks, really likes announcing new laptops as well, and now there is another child joining the rapidly expanding family of their products.  Behold: the GE700 laptop, an enhancement over the recently announced GE600 laptop.  Specs are below, and they are pretty good:
Intel Core i5
ATI Radeon HD5730 with 1 GB VRAM
17.3" "HD+" LCD
DDR 3 RAM (2 Slot)
Up to two 500 GB HDD
Optical Drive
802.11a/b/g/n Wi-Fi
Bluetooth 2.1
HDMI Port
e-Sata Port
4 USB 2.0 Ports
4-in-1 card reader
HD (720p) Webcam
6 or 9 cell Battery
7 lb (3.2 kg)
A Subwoofer
The GE700 also has MSI's GPU Boost technology, to enable and disable discrete graphics, and MSI's ECO Engine Power Saving Technology. Pricing is not out yet, but don't be surprised if this hits the market pretty soon.  It looks as if MSI plans on giving Alienware a challenge for the gaming notebook market.
Feb 18 2010

Once upon a time, there was a highly successful PDA OS known as PocketPC, available in stores during the early 2000s.  People didn't have mobile internet and fancy ideas such as "the cloud" and "App Stores" didn't exist.
But then Steve Jobs came along in 2007 and ushered in what is commonly thought of as the "Mobile Web Revolution".  Smartphones quickly spread, and PDAs began to die.  Microsoft's response? Repackage PocketPC as "Windows Mobile" (commonly known as "WinMo"), and hope no one would complain. Unfortunately, the tech blogs did complain, and with each WinMo release there was an outpouring of disgust towards the next cruel joke that came from Redmond. Until now; Windows Mobile 6.5 will be the last WinMo version ever, and the crude monstrosity it was is dead.
Normally we don't focus much on phones, but with the Mobile World Confrence in Barcelona, it is hard to avoid reporting on them. And frankly, the death of WinMo for a new line called the Windows Phone 7  Series is some pretty ground-shaking news in the mobile world.  Windows Phone 7 completely scraps the PocketPC core and instead takes the approach of the Zune HD in terms of user interface.  The result is a lot prettier of an UI, though the resulting effect on the user experience is debatable.
A major element that Microsoft will bring is that it has taken Android and WebOS's approach of dynamic and live data displaying.  Rather than the iPhone which requires individual apps to access info from sources like Facebook and Twitter, WinPho 7 (I expect the nickname to catch on once we all get sick of saying Windows Phone 7 Series) integrates it all to the "People Hub". This is what on traditional phones (smart or dumb) is called the "Contacts".  There are other hubs as well, like Pictures, Games, Music + Video, and Office.
Another weapon in Microsoft's arsenal is Xbox Live and its integration to WinPho 7. The iPhone has shown that mobile gaming is a very real market, and Apple took advantage of  it without much of a background in gaming. Xbox Live is the world's largest console gaming community, and there is not much doubt that Microsoft will be using this to turn gaming on phones into more than a simple recreational activity.  Adding a Gamerscore to WinPho games will make it a highly competitive device (it might actually attract real gamers from DS and PSP) and probably cause the major names of the game development world to start investing their money onto this new platform.
Microsoft has killed its old app platform, which was viewed by many as a monstrosity in WinMo 6.5.x. Of course this will naturally cause many unsatisfied developers in the beginning, but it is almost undoubtedly guaranteed that the new API will be vastly better.  Another issue Microsoft will have to face is that WinMo was a heavily corporate OS, with a focus on productivity, while WinPho is essentially a Zune + Social phone, with the productivity getting pushed back.
Microsoft still intends to keep the Office hub, so they will likely not lose much of their consumer-base.  Still, WinPho is a product that may already be too late – it will not even hit the market until Q4 2010.  Whether or not it can save Microsoft's dismal mobile prospects remains to be seen, but this writer is glad to welcome Microsoft back to 2010.
Via Gizmodo
Feb 11 2010
When I first saw the iPad, I bet that I wasn't the only one who initially thought, "It's a larger iPhone." As it turns out, that might not be such a bad thing after all.
Because the iPad OS is basically an augmented iPhone OS, any app that was available to the iPhone can be used on the iPad. Now a quick question: what type of app makes up the majority of those available online?
Games. Games are among the most downloaded and most popular apps from the App Store. As of the moment I'm writing this article, of the top ten paid apps, seven are games, of the top ten free apps, six are games, of the ten top grossing, eight are – that's right – games.
College students were bad enough in class when it was only the iPhone with its admittedly limited screen size. But the iPad's screen is 9.7 inches. The iPhone has a 620 MHz processor, Apple states the iPad will pack 1GHz. Faster processor and larger screen? Oh man, I don't know what the next generation of multitouch and accelerometer based games are going to be like, but I definitely want to be there to find out.
Via The Economic Times, image via Examiner.

Feb 3 2010
Dell's gaming wing is making a big splash into the world of netbooks with its M11x system, which was introduced at CES a couple of weeks ago.
Unfotunately, the M11x won't be available until March 1, but Dell has decided to let people pre-order from their site. The price starts at $799 for the base configuration, which includes an Intel Pentium SU4100 1.3GHz processor, 2GB of DDR3 RAM, a 160GB hard drive, and the new nVidia GeForce GT 335M graphics card with 1GB of graphics memory. It comes running Windows 7 Home Edition on a 11.6-inch LED-backlit display, and Dell claims that the M11x will deliver "the graphics power of a 15-inch laptop in an 11-inch form factor."
Upgrades for this baby include a beefier Core 2 Duo SU7300 CPU, up to 8GB total in RAM, and larger hard drives in the 250GB, 320GB, or 500GB size, or a 256GB solid-state drive for an arm and a leg. You may think I'm joking about that last part, but historically, prices have gotten jacked up for SSD configurations.
Color choices include black or silver, and following Alienware tradition, you can choose different color options for the system's LED lighting.
Via ZDnet.com
Jan 8 2010
This is truly glorious. Today at CES 2010, the all-new Alienware M11x netbook was released – a 4 lb no-compromises machine for gamers who can't sit still.
The Alienware M11x packs Nvidia discrete graphics and 4 hours of battery life for those plane rides when you really need to kick back and get your game on. It has a sexy backlit keyboard, classic Alienware styling, and price tag under $1000, coming this February.
Check out Revision3's video review below:
Jan 5 2010
Laptops have given man the freedom of mobile computation, but in the process of making things light, manufacturers have often needed to sacrifice performance. Therefore, many light-weight portable PCs are not as powerful as the desktop PCs.
Enter the gaming laptop. Though not very portable, these machines are nonetheless mobile but with powerful components to meet the gaming and entertainment needs of the consumer crowd.
What's special about gaming laptops? These devices are often desktop replacements as they offer almost all features of a desktop PC. Let's take a look at them.
The screen comes in first. Most gaming laptops are equipped with high definition resolution screens. Some even feature full HD displays, which is the highest clarity that is possible currently (1920 x 1080 pixels). The Acer Aspire 8930 and the Asus W90 laptops are examples of full HD laptops.
Choosing the right graphics processor is another important factor which contributes to making a good gaming machine. Most of these laptops are fitted with powerful NVIDIA graphics, or sometimes even the ATI Radeon GPU. These graphics processors ensure that justice is done to demanding applications and high speed games. Moreover, they also allow playing of HD content in 720p or 1080p varieties.
Many multimedia laptops come packed with huge hard drives – 500GB and even 1TB (1000GB). This lets users store a tremendous amount of data – media files, movies and more in their systems. The Toshiba Qosmio X500 and the Dell Studio 17 with multitouch capability offer 1TB of internal storage. Most laptops come integrated with a DVD drive or sometimes a Blu Ray drive for added multimedia capability. Watching your favourite movies is just a matter of slipping in the compatible disc.
Even on the interfacing front, entertainment laptops provide plenty of options. The HDMI port, which lets you link your laptop to a high definition TV, is very common in workhorses machines days. Multi-format card readers, USB ports, Fire Wire ports and audio jacks are found in these laptops as well. Some even come with TV tuners.
A high speed CPU and capacious RAM are also helpful in empowering gaming laptops. Wi-Fi and wired Ethernet connectivity, which are found in nearly every laptop, are not sacrificed these machines. Some workstations also support 3G for quick internet access.
One of the downsides of gaming laptops is their low battery life, which often comes in at a mere 2-3 hours. When running power-hungry applications, even lower lives can be expected. However, due to their heavy weights, these mammoths are seldom used for portability, and hence are better off on the desk near power outlets.
Price-wise, these gaming laptops vary in accordance with offerings. You'll find both budget friendly ones as well as feature-wealthy, pricey computers. The choice to buy them lies in your hands, and if you love to game, they might be what you're looking for.