Now, just days after the advent of Intel's new Atom N450 processor, the first netbooks with this fine new chip are being released. The new netbook is the Gigabyte T1000 tablet, and along with the new processor it features a 10.1-inch LCD display. The display offers the ability to interchange between a netbook setup and tablet setup. Some of the other specs of the device include:
1GB DDR2 RAM
250GB 2.5-inch SATA HDD
Integrated microphone
Two 1.5W speakers
1.3 Megapixel web cam
2 USB 2.0 ports
eSATA/USB combo
Support for wireless, ethernet and Bluetooth connections
Two versions of the netbook are being released, differing in battery life and weight. The T1000x has a lighter weight, but weaker battery as compared to the T1000p. The prices for the tablets are not yet available.
This kind of netbook is one of many that shows the remarkable utility of the netbook-tablet fusion. With products like this, who needs a silly iPad?
Via Coated.

Oct 20 2009
Gigabyte is planning to release Windows 7 versions of its Gigabyte T1028X netbooks in Japan. The machine will run Starter Edition on its 1.66 GHz Atom CPU.
Other features include a 1366 x 768 touchscreen display, 1 GB of RAM, a 250 GB HDD, and a 6-cell battery.
Another Gigabyte netbook, the Booktop M1022, will also be delivered with Windows 7. The machine features a 10.1-inch display of the same resolution, the Intel Atom N280, a 250 GB HDD and a 6-cell battery as well. It will sell for $740 in Japan.
The only major differences here are the boost from 160 GB to 250 GB, plus the change of OS.
Via Liliputing.
Aug 27 2009
The Gigabyte Booktop M1022 is a netbook with a generally standard lineup of features – Windows XP, an Intel Atom CPU, and 1 GB of RAM. It doesn't do much to set itself aside from the competition, except for in one respect. I quote Gigabyte marketing:
"The differentiator, the feature that sets the Booktop M1022M apart from all the other products, is the Booktop Docking Station."
Take a look: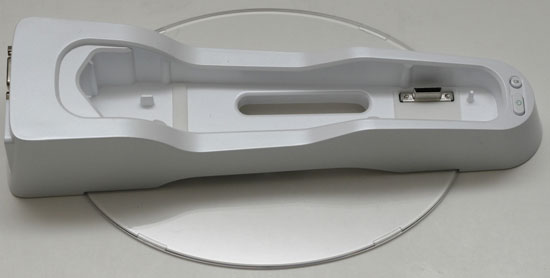 The docking station is a useful way to charge your netbook without fiddling with cables, and it looks cool too.
Is it enough to get you to choose the Booktop M1022 over the competition? Be sure to read more about Gigabyte products here.
Via AnandTech.
Aug 16 2009
Also known as the ThinNote (and recently named the "Myou"), the Gigabyte S1024 netbook has started shipping in Hong Kong. This netbook is part of a series of three netbooks recently released by Gigabyte.
The Gigabyte S1024 has a 10.2″ screen with 1024×576 resolution, 1 GB of RAM, and a 60 GB / 80 GB PATA HDD (4200 RPM). The netbook is powered by a 1.6GHz Intel Atom N270 CPU and an Intel 945GSE chipset. Other tech specs of this machine include Wi-Fi (b/g), Bluetooth 2.1, and optional 3G.
The Myou has a keyboard that is 92% of a full-sized one and the netbook comes with a 6-cell battery, which lasts for roughly four hours.
In Hong Kong, the price tag for this machine is HK$3,580 (£280, €323, $462). Think the Gigabyte S1024 Myou will make it's way over to the US soon? We'll let you know if it does.
Via Netbooked.
Aug 10 2009
Gigabyte has quietly released their T1028X touchscreen netbook, an updated version of the T1028M that was announced back at CeBIT2009. Some noticeable key changes are: a change in processor (to a 1.66Ghz Intel Atom N280 CPU with a faster FSB) and a higher resolution display (1366×768).
A higher resolution means that you'd be able to see more on the screen at any given time, but it would also mean that it'd be harder to pinpoint (touch) certain items on the screen as well. As we all learned in Economics 101, there's always tradeoffs and opportunity costs.
Some other tech specs of this new machine include 1 GB of RAM, a 160 GB hard drive, Wi-Fi, Bluetooth, and an ExpressCard 34 slot.
Prices have also relatively higher, compared to the T1028M model netbook. The T1028X is available online in Europe for roughly €497.70, excluding tax, or $702.
Via SlashGear.
Jun 1 2009
Gigabyte is announcing a new revamped netbook, using a touchscreen to run Microsoft's Windows 7 OS. The new device is called the TouchNote T1028 and has a 10.1-inch display.
The netbook transforms into a tablet PC. It's worked well so far under Windows 7 beta, and should be released around the time of Microsoft's release of Windows 7.
Gigabyte representatives didn't rule out a pre-Windows 7 release, which would mean the TouchNote T1028 would be released initially with Windows XP.
Prices are set at around $599, with a global release as early as this July. It will use the Intel Atom N280.
Via ITWorld.
Apr 11 2009
Announced at CeBIT this year, the Gigabyte T1028 netbook is a tablet with some interesting features. Some reviewers at UMPC Portal have put together a hands-on review of the netbook, which costs over $600. How does it justify the price tag?
The swiveling touchscreen is always a classy addition, but no less crucial are the ExpressCard slot, embedded 3G capability, snappy Wi-Fi, and a lightning quick 2.5-inch drive.
Be sure to take a look at UMPC Portal's review for more info, and see if it's the netbook for you. You can also browse our section on tablet netbooks for some look at the competition.
Mar 25 2009
Three new netbooks were announced by Gigabyte at CeBIT this year. Gigabyte is the maker of the previously announced Touchnote M1028 tablet netbook, but is expanding its offerings to include a desktop docking station and the mysterious Gigabyte S1024 ThinNote.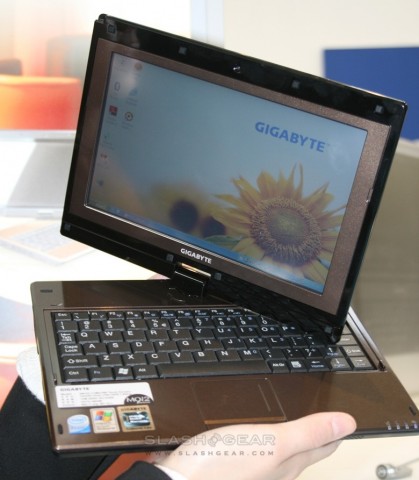 The netbooks are produced by Moblix and all feature the Intel Atom. The M1022 BookTop desktop docking station and ThinNote use the older Atom N270 chip while the TouchNote tablet netbook uses the 'upgraded' Atom N280. Other common features include "10.1-inch displays, WiFi b/g, Bluetooth 2.1 and 1GB of RAM."
You can expect the Gigabyte netbooks to ship around April 30th, priced at – brace yourself – $594 for the M1022 and $644 for the TouchNote tablet. The Gigabyte S1024 ThinNote netbook will also come into the game at an unannounced date for $594.
Via SlashGear.
Feb 21 2009
The Mobile World Congress 2009 ended recently. The majority of the new tech announcements were related to phones, though we did get to see the new LG X120 netbook. However, that wasn't the only new netbook release.
Also notable was a new tablet PC by Gigabyte. The new TouchNote M1028 is a 10-inch netbook with tablet functionality on its swiveling touchscreen. Its specs are pretty standard – an Atom N270 at 1.6 GHz, 1 GB RAM, and a 160 GB HDD. It runs Windows XP.
Gigabyte's involvement in the netbook market has been limited, with most of its new announcements planned for 2Q09. However, its new tablet netbook has caused some to posit that tablet functionality will put the spice back into the netbook industry. Truc Bui of GottaBeMobile thinks that a market reduced to offering its products in designer makeup is showing clear signs of its novelty wearing off.
I personally see gimmicks like the Vivienne Tam netbook as a sign of the industry's flourishing, rather than its dying. After all, who takes chances on a flashy netbook that's $245 too expensive if they're worried about getting their products out there in the first place? Producers like HP know people are buying whatever they make, so they're willing to be a little risky.
Regardless, it's entirely possible that tablet netbooks are the next big thing in the industry. Announcements like the Viliv S7 or the CrunchPad are exciting, so if the TouchNote M1028 heralds a new era of touch-sensitivity, I'm all for it.
Via GottaBeMobile.
Jan 13 2009
Gigabyte is launching two new 10-inch netbooks second quarter 2009. They will be set for a higher price category than most netbooks at around $400 and higher. How does it rationalize the high price? They haven't said, but we're curious.
Gigabyte is interested in cheaper netbooks as well, a few of which will be surfacing soon. So far they've been trailing in the netbook market, behind retailers like MSI and ASUS. It's only shipped 125,000 units, whereas MSI neared a million and ASUS sold in the millions this year.
The company made some commentary on the competition as well. Gigabyte, noting ASUS' first-ever quarterly loss, criticized them as "too aggressive." Gigabyte thinks ASUS had too many products out and relied to heavily on netbooks and notebooks. We can't say we completely agree with Gigabyte – notebooks have overtaken PCs and netbooks haven't backed off at all.
Via Techspot.