The $1000 dollar price tag on Onkyo's dual-screen laptop is causing many an excited consumer to do a double take.  It's surprising to have a laptop offering two 10.1 inch screens clock in at less than one grand, but Onkyo has made it a possibility. This laptop will compete closely with Japanese manufacturer Kohjinsha which also offers a dual -screen laptop, for a marginally higher price.
The only letdown is that the Onkyo DX is only available in Japan for now.  The laptop is reasonably priced at ¥84,800 (approximately 960 USD).
Features Include:
Two 10.1 inch 1,366 × 768 pixel LCD screens
1.6GHz AMD Athlon Neo MV-40 processor
ATI Radeon HD 3200 graphics
2GB of memory
320GB hard drive
802.11n Wi-Fi
Bluetooth
Windows 7 Home Premium
Via MaximumPC.
Image Via MaximumPC.

Nov 27 2009
We mentioned Kohjinsha's dual-screen netbook back in early October and now the company has plans for delivery to Japan this upcoming December. Strong feedback has pushed the prototype into production and the netbook, nicknamed the Kohjinsha DZ, can be pre-ordered here. Delivery to Japan will begin on December 11th.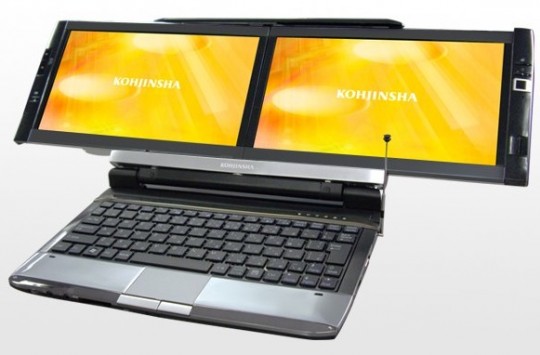 For 79,800 yen (roughly $921 USD) you'll be getting a netbook with a 10.1″ screen display and 1024×600 resolution, a 1.6GHz AMD Athlon Neo MV-40 processor and S780MN chipset, an ATI Radeon HD 3200 integrated graphics chipset, 1 GB of RAM (expandable to 4 GB), and a 160 GB hard drive. There's also all the other typical specs including b/g/n Wi-Fi, gigabit ethernet, Bluetooth 2.1 + EDR, 3 USB ports, and audio in/out, in addition to a fingerprint reader.
The standard battery for the Kohjinsha DZ netbook is a 6-cell 5,200mAh pack which is rumored to hold roughly 4.5 of juice, although we're unsure of whether this is with one or two screens in use. Altogether, the netbook will weigh 1.84 kg – reasonable, considering that it's packing two screens.
Via Slashgear.
Oct 26 2009
Kohjinsha's new PA series gadget bridges the divide between netbooks and tablets. It runs a 4.8″ touchscreen, 1.33 GHz Atom CPU, 512 MB of RAM, and a 32 GB SSD.
The specs are somewhat sparse for a device selling at $758 in Japan, $900 for pre-order at Geek Stuff 4 U, and $867 at Conics. However, the tablet netbook runs for 7.5 hours and comes with a 1.3 MP webcam, serving to slightly ease the pain of the price tag.
We've also discovered some snazzy video footage of the PA series netbook from CEATEC, so take a look after the break.
Via I4U.
Oct 7 2009
Kohjinsha has recently debuted their latest PA Series netbook. The device has a 4.8″ touchscreen display, is powered by an Intel Atom Z520 processor, has 512MB of RAM, and a 32 GB solid state hard drive. The netbook is also equipped with Wi-Fi, a webcam, a 1Seg digital TV tuner, and the Windows XP OS.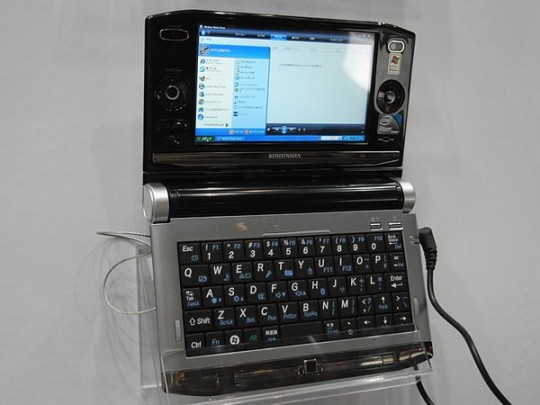 Depending on who you are, the specs may or may not seem all that impressive, and the overall product quality may not be that impressive either. The plastic shell makes the netbook look somewhat cheap and the mouse may be a bit tricky to use. At least the computer battery claims to squeeze out 7.5 hours of juice.
Via Akihabaranews.
Image via SlashGear.