Dell has decided to stick with the price drop it tested on Black Friday. The Mini-9 netbook retailed for $299, and is still available for that price.
The Mini 9 is available in Obsidian Black or Alpine White, or a few other colors for an additional cost. The Mini 9 runs Ubuntu Linux and has 512 MB RAM, a 4 GB SSD, and an 8.9″ LED. For an extra $35 you can upgrade the solid state drive to 8 GB – a choice we recommend.
Though the Mini-12 is already on the market, the Mini-9 is still making news. We've covered it before but the netbook just keeps on popping up – something to be expected from such a successful machine. Reviewers have loaded praise on the netbook, particularly noting its excellent battery life which distinguishes it from such competitors as the Acer Aspire One or MSI Wind.
Nov 19 2008
The new Toshiba NB100 netbook has hit the market, boasting a few enticing features to differentiate it from the competition.
The Toshiba features the same Atom processor used by the Eee PC, MSI Wind, and Mini-9. At a standard 1.6 GHz with Wi-Fi, bluetooth, Ethernet, USB ports and a memory card slot, the NB100 seems somewhat basic in most areas. There is one aspect to the netbook, however, that I think is something to be excited about.
The most fascinating thing is that the USB connectors on Toshiba's first netbook are designated 'sleep-and-charge'. What this means is your USB-connected devices (cell phones, MP3 players, etc.) can be charged through the netbook without you needing to even turn on the machine. This step seems to be part of a new wave of efforts (that we noted in yesterday's article) towards improving the efficiency of these devices. With business travelers and college kids not needing to carry around as many power adapters, this feature will definitely make the NB100 all the more attractive to the netbook market.


The flip side here is that the keyboard of the Toshiba NB100 is sadly somewhat imperfect. While it may not be an issue for the more enduring among us, typing for long periods may become uncomfortable and difficult. Instead of being appropriate for the 8.9-inch size of the thing, the keyboard seems as though it were built for a 7-inch netbook. While netbooks like the Dell Mini-12 (which we covered a few days ago) have shown a trend towards improved keyboard usability on smaller devices, the Toshiba NB100 is somewhat substandard in this respect.
Personally, the sleep-and-charge feature sounds interesting and intelligent, but not worth the small keyboard. However, with its first netbook certainly up to par in other areas, Toshiba looks to be willing to experiment with the netbook market. We should expect some promising things in the future.
Nov 16 2008
It's turning out to be quite the week for new netbook releases! The Dell Inspiron Mini 12, which has been available in Japan for some time now, has become available in the USA.
The Mini 12 sports a massive 12 inch display, one of the largest screens seen in netbooks so far. It starts at a moderately pricey $549.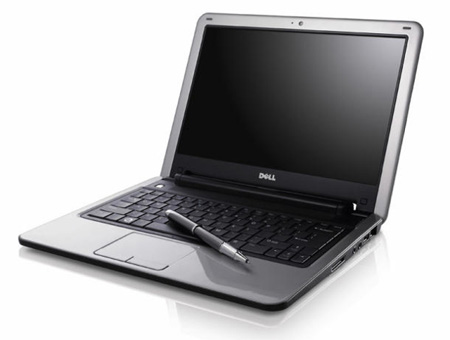 This new release is yet another example of Dell's willingness to gamble on the new netbook market and take hold early. This attitude is a stark contrast to those of companies such as Apple, whose conservatism may save them a lot of money or lose them just as much.
Dell had previously taken strides into the netbook market with its Mini 9 last September, which was a cheap $349 but had only  4 GB of disk storage and lacked bluetooth. The Mini 9 also only came with Linux's Ubuntu, charging an extra $50 for XP. Its 9 inch screen was a more standard size for netbooks.
The new Mini 12, to contrast, has bluetooth and will run Vista Home Edition. Its operating system has been criticized as a poor choice for netbooks, with detractors citing its resource demand and lack of features to compensate. There is unfortunately no option to get the Mini 12 loaded with XP, which puts the new netbook in some danger. Otherwise, it is exceptional for its laptop-like screen size and good looks and its netbook features.
It will come in both white and black.
Some specs:
Intel Atom 1.33 GHz, 533 MHz bus, 512k cache
Windows Vista Home Basic
12.1 inch screen @ 1280×800
1GB RAM @ 533MHz
40GB hard drive @ 4200 RPM
No optical drive
Wireless 802.11g
Integrated webcam
Bluetooth 2.0
3 USB 2.0 ports
VGA video connector
Audio in/out
3-in-1 media card reader
Megabit Ethernet
0.92″ thick
2.72 lbs