Nettops have yet to see the spike in sales that netbooks have experienced over the past year. Some contend that their lack of computing power is one factor that keeps the compact nettops from reaching the popularity of their laptop counterparts.
The Viewsonic VOT132 nettop, however, may turn things around. The fun sized desktop computer drastically cuts down the wattage that regular PCs churn out while still being able to manage 1080p output for media lovers. The VOT132 stands out from other less powerful nettops, with its Ion graphics card and optional magnetic DVD drive.
Features include:
VDD100 Super Multi DVD Reader/Writer (optional)
Dual-core Intel Atom 330 Processor
Nvidia Ion Graphics Card
2GB of DDR2 RAM
Windows 7 Home Premium
320GB Hard Drive
802.11b/g/n WiFi
The Viewsonic VOT132 will be sold for $450 with an optional VDD100 DVD drive for an additional $100. Overall, the Viewsonic nettop is perfect for streaming your favorite online TV shows or Youtube clips onto the display of your liking.
Via Engadget, image via ComputersAvenue.
Dec 5 2009
Measuring 4 in. x 4.5 in. x 1.05 in., the CompuLab fit-PC2i nettop is no doubt a tiny machine. In fact, it's rumored to be the world's smallest dual gigabit ethernet-equipped PC.
Other tech specs of the CompuLab nettop include a (11.GHz to 2GHz) Intel Atom Z5xx processor, up to 2 GB of DDR2 RAM, room for a 2.5 in. hard drive, Wi-Fi, 4 USB 2.0 ports, audio in/out, and Windows 7 (optional). The nettop also has a 100% aluminum die-cast body and at full load only consumes 8 watts of power.
Interested? Unfortunately, you'll have a bit of a wait. The nettop ships in January 2010.
Via Engadget.
Oct 16 2009
The newer version of the Acer Aspire Revo R3610-U9012 nettop features a Dual-Core Intel Atom 330 processor and 2 GB of RAM. The original nettop model had problems with running 1080p videos so hopefully this model will be able to run pretty smoothly with the new features.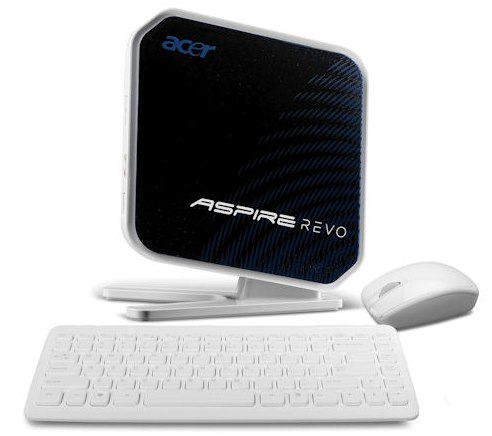 The Acer Aspire Revo's wireless connectivity has also been given a boost. It now has Wi-Fi b/g/n capabilities. All other components have stayed the same from the previous model. This Acer nettop also has a 160 GB hard drive, six USB 2.0 ports, gigabit ethernet, HDMI, VGA, and eSATA, and a multiformat memory card reader.
The Acer Aspire Revo nettop is available now, priced at roughly $330 a pop.
Via Slashgear.
Aug 19 2009
Today's news just seems to be chock full of nettop rumors and releases. Here's another one.
Acer has recently announced that it will soon start shipping its Veriton N260G nettop within the United States. This nettop is meant for use in classrooms and tightly-spaced offices, and can be mounted to an existing LCD display or placed on a desk (it comes with a stand).
The N260G nettop is powered by a 1.66 GHz Intel Atom processor and an Intel GMA 4500M graphics chipset. This machine also has 1 GB of RAM (which can be doubled) and a 160 GB hard drive. The default OS is Windows XP Professional, but a recovery disk with Windows Vista Business is included.
Other tech specs of this machine include Gigabit Ethernet, Wi-Fi, six USB ports, a multi-format card reader, HDMI output, and a legacy PS/2 port.
The price tag for the base model of the Veriton is $399.
Via Electronista.
Aug 19 2009
Lenovo has recently posted (on Twitter) a tease picture of their first nettop, the IdeaCentre Q100/Q110. The company describes these nettops as "some of the thinnest nettops in the world."
Currently, there's no further information on the specs of these machines, but from what I see in the picture below, they look pretty nice and sleek to me. Essentially, they look like netbooks with stands.
Since these machines are nettops, we will be expecting some sort of Intel Atom platform, but can't say which one yet. We'll let you know more details when we hear them.
Via Thinkpads.
Aug 19 2009
So with the release of Windows 7 just around the corner, netbook manufacturers are taking advantage of introducing machines that utilize Intel Atom processors together with Nvidia Ion chipsets. Together, these chipset technologies would be able to provide end-users with a high-quality, low-power Windows 7 experience.
Let's look at ASUS. The company has just introduced the EeeTop ET2002T, a 20″ touchscreen nettop with 1600×900 resolution. Initially showcased at Computex 2009, this machine is powered by a dual-core  1.6GHz Intel Atom 330 CPU and has 2 GB of RAM and a 250 GB (5400RPM) hard drive.
Other tech specs of this machine include Gigabit Ethernet, Wi-Fi (b/g/n), a card reader, four USB 2.0 ports, and an HDMI connector.
Since the Nvidia Ion chipset will be part of this nettop package, the system may be shipped with a choice of Windows Vista as the OS. There may also be the chance to upgrade this OS to Windows 7 when it is released.
ASUS will be offering the nettop as a bundle that includes a wireless keyboard and mouse. The price tag for this nettop bundle, you ask? €598, or $845.
Via Softpedia.
Image via GadgetBlogIT.
Jul 30 2009
ViewSonic has already released nettops in the past, but their newest releases come in even more compact than the 130 and 132 versions that were previously released.
ViewSonic has recently announced the VOT120 and VOT121 nettop models, which are roughly the size of a decently-filled CD wallet. Some tech specs of these nettops include Wi-Fi, gigabit Ethernet, four USB ports, and DVI-out.
The VOT120 has pretty standard tech specs, but the VOT121 is relatively more powerful. It's powered by a 1.4GHz CULV chipset and has HDMI output.
Pricing (in Taiwan) for these nettops is currently set at $304 for the VOT120 model and $423 for the VOT121 model. Learn more about ViewSonic's newest nettops by checking out this video clip.
Via Engadget.
Apr 14 2009
Nettops are to desktops what netbooks are to laptops. Nettops run on the Intel Atom processor and tend to be smaller (and have smaller screens) than regular desktops. Their all-in-one-package factor provides a high level of convenience since it minimizes the amount of separate computer parts that an individual would have to deal with upon setup.
Recently, nettops have grown in popularity, and while they are less powerful than the original desktop, they are also easier on the wallet.  In this economy where price plays a big factor in a consumer's purchasing decisions, it is no wonder why there is a growing trend in the popularity of these devices. The sale of nettops may even be able to save the overall declining sales of current desktop computing technology.
The price of nettops currently ranges from $400-$800 dollars. For consumers who greatly dislike the Windows Vista operating system and don't want to wait for Windows 7, don't worry. Nettop devices can operate on Windows XP technology.
Via Cnet.