The ultraportable ASUS Eee PC 1201PN netbook is now available for pre-order on Amazon Germany.  The 12″ ultraportable is currently available in three colors – black, silver, and red, and packs a 1.6GHz Intel Atom N450 processor, 2 GB of RAM, a 250 GB hard drive, and a NVIDIA Ion graphics chipset. Other tech specs include Wi-Fi, gigabit ethernet, Bluetooth 2.1, three USB ports, and HDMI and VGA outputs.
The ASUS Eee PC 1201PN is priced at €479, or roughly $600 US.  No information is yet available on the shipping date, but ASUS is planning on introducing the Eee PC 1215N netbook in July, which is essentially a hyped up version of the 1201PN with Optimus support and a new, dual-core Intel Atom processor.  We'll be sure to keep you updated on any future releases.
Via SlashGear.
Mar 22 2010

In recent weeks, LG announced the release of the X300 netbook – an ultra-thin, stylish, exceptional quality system. Weighing in at a slight 2 pounds with a thickness of .69 inches, the X300 becomes an extremely portable technological marvel. The specs are as follows:
• 11.6-inch LCD screen
• Windows 7 Home Premium OS
• 2.0 GHz Intel Menlow platform
• Up to 2GB memory
• 128GB SSD
• Embedded 3G modem chipset (Supports GSM, GPRS, EDGE, UMTS and HSDPA networks)
• 1.3-megapixel webcam
• SRS TruSurround HD sound
Although these premium specs make the X300 a very powerful and impressive netbook, its true uniqueness lies within the Gorilla Glass screen. The advanced substance covers the LCD screen and is nearly unbreakable and unscratchable. As a result, the X300 surely offers enough physical security for the clumsiest of netbook users.
Now for the downside: the X300 has not yet been released in North America, but judging from the approximate $1400 pricetag it sported in South Korea, we can expect a hefty price here as well. No specific release date has been announced yet, but since distribution of the product has already started, we can anticipate sometime within the next month.
Via Fast Company and I4U
Mar 21 2010
HTC, the company that Apple is suing over twenty alleged patent infringements, has said in a press release that it does not agree with Apple's move to file the lawsuit and intends to defend itself.
HTC does not only say that it is innovative—it has a timeline that demonstrates this claim. Here's a quick list of the company's firsts regarding smartphones and PDAs:
First Windows PDA (1998)
First Windows Phone (June 2002)
First 3G CDMA EVDO smartphone (October 2005)
First gesture-based smartphone (June 2007)
First Google Android smartphone (October 2008)
First 4G WIMAX smartphone (November 2008)
Some of these occurred long before the iPhone was even out. Unfortunately for HTC, lawsuits can drag out for a long time, which could cause the company financial strain (Apple is so powerful that it probably would not be affected at all). I'm no lawyer, but Apple may be quite off the mark with its lawsuit against this company.
Via ZDNet, image via ZDNet.
Feb 7 2010
Apple's latest device, the iPad, will be carried by AT&T when it is released. However, AT&T's network is not the most reliable out there, as evidenced by the problems it has had since the iPhone's release.
The Federal Communications Commission (FCC) is concerned about the effect the iPad will have on the AT&T network. Last week, it posted the following on its blog:
With the iPad pointing to even greater demand for mobile broadband on the horizon, we must ensure that network congestion doesn't choke off a service that consumers clearly find so appealing, or frustrate mobile broadband's ability to keep us competitive in the global broadband economy.
Of course, it does not specifically mention AT&T by name, but there really is no doubt to whom the entry refers. AT&T's network needs an upgrade that will probably cost around $18 billion. Apple apparently has faith in AT&T, at least judging by Apple COO Tim Cook's comments.
The FCC blog entry also raises the question: will the FCC approve the iPad?
Via CoolTechZone, image via AT&T.
Feb 4 2010
Fujitsu is a brand that doesn't seem to garner much attention in the American consumer market. Still, it has been known for making sleek products and appealing to more of a high-end/business user-base.  So without much fanfare, Fujitsu officially announced the LifeBook T900 Tablet PC and pricing for the LifeBook UH900.
The T900, in many senses, is your typical Tablet PC. It is essentially a rehashing of their older 13.3″ T5010 tablet, but with a significant performance boost.   You get your choice of Intel Core i5 520M, 540M, or Core i7 620M processors, and your typical 2 GB RAM, 160 GB HDD, DVD-RW, and integrated Intel graphics.  With special bonuses like biometric scanners, ambient light sensors, and  user-cleanable dust filters, this one will start at $1,889.
On the cheaper end of the Fujitsu spectrum (which really isn't all that cheap), the Lifebook UH900 is a mobile internet device (MID) that premiered at CES 2010. This is equipped with an Intel Atom 1.6 GHz Z530 CPU, 2GB RAM, a 62GB SSD HDD, 802.11b/g/n, Bluetooth, and GPS plus Windows 7. All on an itsy-bitsy 5.6″ multitouch screen.  This is all highly impressive, but whether or not that justifies a $999 MSRP is up for you to decide. If you believe so, then you'll probably appreciate the fact Fujitsu is currently selling it for $849.
Feb 2 2010
After Apple's announcement of its tablet, the iPad, it is quite easy to lose sight of the fact that there are other tablets available for purchase. One of these is Fusion Garage's JooJoo tablet.
The JooJoo tablet technically is not available yet, but it should be by the end of February. The CEO of Fusion Garage has said that preorders for the tablet have exceeded expectations and there has been an increase in inquiries since Apple's iPad announcement.
The JooJoo tablet was announced in December 2009. It is 2.4 pounds, has a 12-inch screen and a 1366 by 768 display, 1GB of memory, and a 4GB Solid State Drive. It also has USB 2.0, Bluetooth support, built-in speakers, Wi-Fi, a Webcam, and a microphone. Its most interesting feature, in my opinion, is its color-tinted screen (I would be interested to see how this looks).
Unlike the iPad, the JooJoo does not use apps. Rather, it uses the Internet. It supports Flash and is supposed to play YouTube videos well. Unfortunately, it does have some significant shortcomings: users cannot save files to its hard drive (the hard drive is solely for the OS and cache data) and it does not have 3G support.
The JooJoo tablet is basically like having the Internet in your hands. The question is whether this will be enough for tablet buyers.
Via PC World, image via My Digital Life.
Jan 28 2010
Today, at a special event, Apple showed off its newest creation to the world. It's called the iPad and it's a huge disappointment. Perhaps we set ourselves up to be disappointed because there were so many rumors about how glorious the device would be, so anything that Apple came up with would fall short of our expectations.
I think the iPad will be a failure for Apple. The main problem I see for it is that there is no market for such a device. There is nothing that the iPad can do that cannot be done by a laptop, iPhone, or iPod Touch. There is no incentive for customers to spend, at a minimum, $499 on this device.
Another problem is the storage on the iPad. It comes in 16, 32, and 64 GB sizes, priced at $499, $599, and $699, respectively. That is really not a lot of storage space, especially for music, movies, games, and other entertainment-related content.
Speaking of different versions of the iPad, it also comes in a version that has 3G connectivity. Considering that the device is meant to be portable, the 3G iPad is the better one to get. However, users will have to pay for an AT&T plan to take advantage of 3G. The plan is priced at $15 a month for 250 MB of data, or $29.99 for unlimited. For users who want to stream movies, the unlimited plan is probably the one to choose, raising the price even more.
The iPad can run larger versions of iPhone apps. In fact, Apple is going to introduce a new version of iWork for the iPad. Each part of iWork will be sold separately, costing $10 per app. There still will be no multitasking for apps—only one can be running at a time (except for apps made by Apple).
Finally, the iPad is an e-reader as well. Apple is offering a new system called iBooks which will offer content from major book publishers. This is one of the few redeeming features of the device.
Another shortcoming on the iPad is the fact that it does not support Adobe Flash, just like the iPhone and iPod Touch. When will Apple learn that we really want Flash support on our mobile devices?
I admit to being a bit surprised at Apple. Usually Apple products are better than this. The design and the name are even uninspired, to say nothing of the features. The iPad is an excellent idea that unfortunately was not realized to its full potential.
Via CNET, image via Apple.
Jan 27 2010
The much anticipated Apple Tablet, now officially iPad, was announced this morning by Steve Jobs. The full specifications list known thus far shows some of the previous rumors were right, while others are very surprising.
The focal point of the iPad of course is the screen, and it is packing a 9.7″ IPS display, which is a type of TFT LCD allowing for a wide angle of view. It will support up to 1024×768 resolution and will output 480p through composite video. Naturally, the iPad is inheriting a full capacitive-touch screen from it's smaller counterpart, the iPhone.
A lot of the other features derive from the iPhone as well: Bluetooth 2.1, 802.11n WiFi, accelerometer, speaker, microphone, etc. However one truly new component is the custom processor being used for the iPad: the "Apple A4". It is a 1.0 GHz CPU able to decode HD video and maintain a 10-hour battery-life, blowing the Tegra and Snapdragon out of the field in terms of efficiency.
The final component is the iPad's network support. While WiFi will be standard for all iPads, there will be optional 3G provided, with AT&T being the preferred provider.  This gives the option of mobile web to iPad users should they pay the extra premium.  More details on pricing ahead.
Via Gizmodo, image via Apple
Dec 26 2009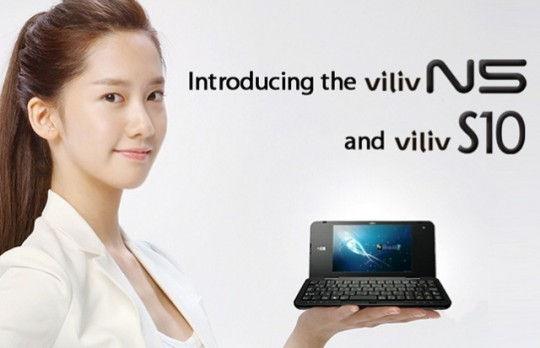 Viliv will be unveiling yet another mobile internet device during January's Consumer Electronics Show. Earlier this year, Viliv launched the M5 MID, which is the same size as the newly released N5 but with a sliding keyboard. Just this week the company announced the release of its larger MID, the S10 Blade netbook boasting a larger 10-inch touchscreen display.
Now it's the N5's turn to shine. The N5 is much more compact that the S10 blade and has a clamshell design that features touchscreen capabilities. The MID also has a 4.8-inch screen, making it all the more portable.
Other features of the N5 include:
QWERTY keyboard
3G Wifi capability
GPS
There has been no word on the price range of the Viliv N5 netbook. We will have to wait about two weeks to find out.
Via Engadget, image via SlashGear.

Nov 16 2009
At first glance, Lenovo's latest Ideapad ultraportable netbook, thus far named the FL5-B3,  is pretty typical, but at least it has an interesting CPU. The 10.1″ FL5-B3 netbook has 1024×600 resolution and is equipped with a 1.66GHz Intel Pineview processor (most likely the N450), 2 GB of DDR2 RAM (a Samsung chip), and a 250 GB 5400 rpm Seagate hard drive.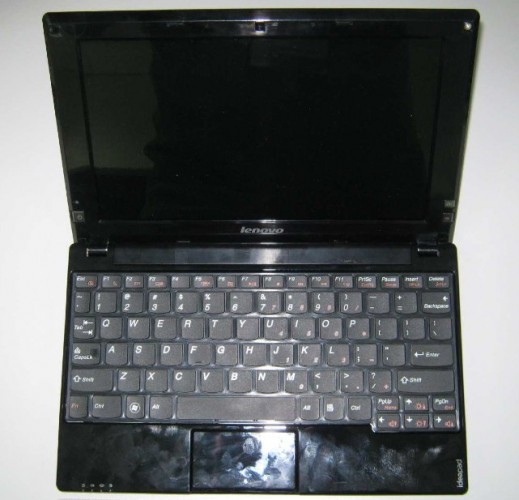 Designwise, Lenovo's new Ideapad netbook will be similar to previous IdeaPads, but as you can see in the photo above, this little sucker will be a fingerprint magnet. Also, there is no trackpad button in this model, which implies that there will be some form of integrated clicking.
Unfortunately, since Intel is not releasing Pineview until at least January 2010, this Lenovo netbook is not likely to show up until early next year either. At least the wait's only a little bit longer.
Via Slashgear.
Nov 5 2009
AMD has been keeping Congo in the works for the release of Windows 7 as a competitor to Intel's Atom, but it will soon be rearing its ultraportable head in the soon-to-be-released MSI Wind 12 U230.  With a 12.1" monitor, it's no netbook, but it packs a solid punch while staying under three pounds, though you may be able to clear three pounds if you order the six-cell-battery instead of the three.
It's that exciting.
Specifically, the punch will contain up to 4 GB of RAM, up to 320 GB of hard drive space, and a 1366×768 screen resolution, along with the Congo platform, designed for multimedia usage and longer batter life, all in a package only 0.9-1.2" thick.
Via TechReport and Engadget.
Oct 24 2009
The Lenovo IdeaPad U150 ultraportable went on sale in Japan on the same day as Windows 7. The U150 has an 11.6″ screen display with 1366×768 resolution, a 1.2GHz Intel Core 2 Duo SU2300 processor, 2 GB of DDR3 RAM (it can have up to 8 GB), and a 250 GB hard drive. Other tech specs of the ultraportable include Bluetooth 2.1 + EDR, b/g/n Wi-Fi, Gigabit Ethernet, two USB 2.0 ports, a USB/eSATA connector, HDMI, VGA, and a 1.3 megapixel webcam.
This Lenovo ultraportable is unique in that it has a trackpad that recognizes multitouch gestures. The U150 also has a multiformat card reader and "Dolby Sound Room" speaker technology.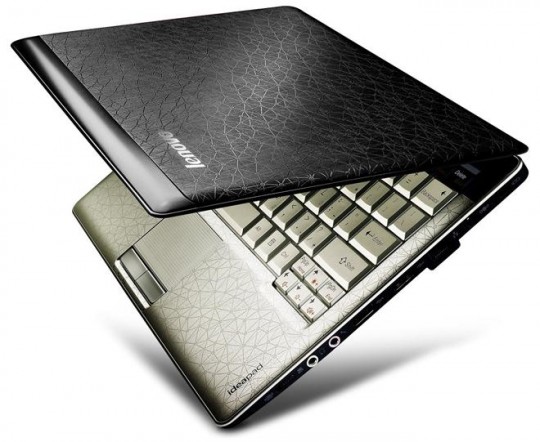 The Lenovo IdeaPad U150 has a 6-cell battery, which is supposedly able to run for seven hours when running Windows 7 Home Premium. The weight of the ultraportable is 1.5 kg. Pricing and availability is not yet available in the United States but we'll keep you posted.
Via Slashgear.