In an attempt to compete with the Intel Atom netbook processor, VIA has announced its own new Nano chip. The Nano 3000 offers a 20% boost in performance over its predecessor and increases power efficiency by 20% as well.
The Nano chip will be available in a variety of speeds including 1 GHz, 1.2 GHz, 1.3GHz, 1.4GHz, 1.8 GHz, and 2 GHz, all with an 800MHz bus speed. These chips will have SSE4 support, virtualisation, and 64-bit OS support. They will also be powerful enough to decode 1080p video.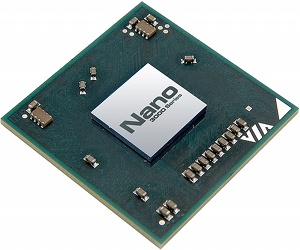 Is the VIA Nano really better than the Intel Atom netbook processor? According to the PCMark 05 and 3DMark2006 benchmarks, the Nano 3000 processor scored higher than the Intel Atom processor by 43% and 49%, respectively.
The Nano 3000 processor is expected to come out in early 2010. VIA has yet to confirm pricing. We'll keep you posted.
Via BitTech.
Nov 3 2009
New VIA netbook chips will use less power and take netbook speed up a notch, according to a statement by the company on Tuesday.
The new processors, known as the Nano 3000 series, are 20% faster than earlier Nano CPUs. One, the Nano L3100, runs at 2.0 GHz while the Nano L2100 runs at 1.8 GHz.
VIA Nano netbook CPUs have been seen in everything from Samsung netbooks to Dell servers, seeking to break Intel's hold on the CPU market with its Atom chip.
The company is currently supplying vendors with the chips and they should go into new machines soon.
Via PCWorld.
Sep 17 2009
VIA introduced its new NetNote systems Wednesday, netbooks meant to provide the power of a notebook at a lower price. The 10.2- to 12.1-inch NetNote netbooks are based on the SurfBoard platform.
The machines have a VIA VX855 media system within, including a choice of VIA C7-M ULV or VIA Nano CPUs. Hardware acceleration is supported for H.264, MPEG-2/4, VC-1 and WMV9.
The SurfBoard netbooks will also support an optional HDMI port, in case you want to connect to an external screen. However, their screens will support 1080p HD video, so you may not feel the need.
Other features include Bluetooth, Wi-Fi, GPS, VIA Vinyl 8-channel HD audio, and optional 3G.
VIA is first making the netbooks available to members of the VIA Global Mobility Bazaar (GMB) Program in China, but consumer markets will see the NetNote netbooks later this month.
Via ZDNet.
Aug 1 2009
One downside of netbooks is that their screens and keyboards are relatively small, so you experience that somewhat cramped feeling when you're trying to surf the web, put together a PowerPoint presentation, or do whatever else it is that you do.
Maybe in the future, the trend will be for consumers to desire larger netbooks, perhaps those whose displays are in the 12″ to 13″ range.
Some players/companies in the market are already anticipating this. White-box netbook manufacturers in China have already begun to manufacture netbooks that have displays larger than 12 inches. Within these netbooks, the white-box companies are rumored to potentially use AMD and VIA processors.
According to the Chinese Commercial Times report, netbooks that are powered by the Intel Atom processor "face limits on the size of the display. In addition, VIA's solution can offer up to half the price of Intel's comparable platform."
Via Digitimes.
Images via VentureBeat and CGDC.

May 17 2009
The latest server setup by Dell doesn't make use of a gargantuan Xeon powerhouse or anything even close to the category – it uses a netbook processor.
The new XS11-VX8 (codenamed Fortuna) is about 3.5 inches long and houses a VIA Nano U2250 netbook CPU.
The netbook chip is backed to 3 GB of RAM, and can be partnered to a 2.5-inch SSD or HDD. There's an SD card slot as will and two Ethernet ports.
So how does this tiny CPU handle the huge amounts of data it's meant to? Well, it doesn't do it alone. Dell bundles 12 of these mini-servers in a 2U chassis, creating a fully customizeable server for Web hosting and similar tasks.
The Nano U2250 is only a 1.8 GHz chip with a 1 MB cache, but it can run a 64-bit OS and even the Intel VTX virtualization platform.
Drew Schulke, marketing manager for Dell's Data Centre Solutions group, explained that power costs are growing daily, and its biggest customers are companies that buy thousands of servers at a time.
"We can come in to a relatively power-constrained rack [environment] and consolidate seven racks of their current [servers] down into one of these…. We could lose a deal [based] on a single watt."
Dell's resourcefulness in manipulating a tiny netbook chip into a high-grade server is sure to inspire plenty of similar adaptations in the near future. Intel would do well to get in on that market, but it's hard to know if the Atom is up for the job.
Via APC.
Apr 28 2009
While a number of bloggers have taken to calling the Samsung NC20 a notebook, we know better. At 12 inches it is comparable to a Dell Mini 12 in size, its RAM and HDD combination are a well known netbook favorite, and the only outlying quality about it – the VIA Nano U2250 CPU – is at least comparable to the Intel Atom in power. The Samsung NC20 is definitely a netbook, but we will admit that it stretches the lines a bit.
It beats out Atom-based netbooks in most benchmarks, has a 3 hour 40 minute battery life, and weighs 3.3 pounds with a 12.1-inch LCD screen. For $550 it's expensive for a netbook, but we've seen worse.
Samsung is planning to double its presence in the netbook market in the near future, and the NC20 shows it means to take this promise seriously. Be sure to take a look at the Samsung NC10 if you're on the market for a Samsung netbook.
Via Wired.
Apr 20 2009
Nowadays, an increasing number of people are making the transition from laptops and personal computers to netbooks and purchasing netbooks to use as a second or third computer. While netbooks may seem relatively small and powerless when compared to standard personal computers, they actually have many of the same functionality and performance standards as PCs.
Netbooks are able to handle various common tasks (access documents and pictures, surf the net, listen to music, etc.) and can also be customized by the installation of various internal and external accessories (like touch screens, tv tuners, or GPS chips). With all these extras, why buy a chunky PC when you can buy a lightweight netbook?
Ten netbooks that are worth checking out include:
1. OLPC XO – Base price: ~$150-$200, Screen Size: 7.5″ screen, Weight: 3.2 pounds
2. Asus Eee PC 900 – Base price: ~$300, Screen Size: 8.9″, Weight: 2.2 pounds
3. Acer Aspire One – Base Price: ~$350, Screen Size: 8.9″, Weight: 2.2 pounds
4. MSI Wind – Base Price: ~$430, Screen Size: 10″, Weight: 2.3 pounds
5. HP 2133 Mini-Note – Base Price: ~$400, Screen Size: 8.9″, Weight: 2.8 pounds
6. Intel Classmate – Base Price: ~$400, Screen Size: 8.9″, Weight: 3.3 pounds
7. Everex Cloudbook – Base Price: ~$250-$300, Screen Size: 7″, Weight: 2.0 pounds
8. Lenovo IdeaPad S10 – Base Price: ~$350, Screen Size: 10.2″, Weight: 2.65 pounds
9. Dell Inspiron Mini 9 – Base Price: ~$300, Screen Size: 8.9″, Weight: 2.28 pounds
10. VIA OpenBook – Base Price: ~$500, Screen Size: 8.9″, Weight: 2.0 pounds
Apr 3 2009
The Samsung NC20 has a few nice features that should pique your interest. The first thing to note is its size, coming in at a larger 12-inches compared to the 10-inch standard of most machines. Secondly, it rocks a VIA Nano CPU, and is one of the only on the market to eschew the Intel Atom for its less well known counterpart.
Though the VIA Nano doesn't have the big name of Intel's chip, it's turned out to be a decent competitor in basically all categories.
The NC20 netbook may assuage most laptop-to-netbook transitioners' concerns about small screens, but it sacrifices some of the portability the category is known for.
Via CNet.
Mar 12 2009
HD video is a much-coveted asset that laptop users enjoy but many netbook users imagine they've sacrificed in their selection of a cheaper machine. The Intel Atom N270 doesn't support it, so until now that's been the end of the story.
However, in recent history, the Intel Atom N280 has been announced to support 720p HD video. In addition, NVIDIA's Ion platform bundles an Atom with its own GPU for an astonishing result: full 1080p video. The Dell Mini 10 netbook will even use 720p HD video with its TV tuner and possible DVD drive.
But Intel and NVIDIA won't get all of the fun for long. The latest and most promising announcement affecting HD on netbooks comes from VIA Technologies, which has developed a new Media System Processor named the VX855. The new processor will be able to decode 1080p video with multiple standards, including "H.264, MPEG-2/4, DivX and WMV9."
VIA says the VX855 MSP will be ideal for netbooks, for which its TDP of 2.3W will ensure efficient power usage. It will support all the leading operating systems – even Windows 7.
The VIA VX855 will also have the ability to work in fanless designs. It uses VIA Chrome9 with DirectX 9 to offer high performance graphics. The product also supports up to eight channels of HD audio and up to six USBs.
It will be exciting to see how the VX855 is integrated into new netbook releases, so we'll keep our eyes peeled.
Via DailyTech.
Jan 14 2009
The new Samsung NC20 netbook is set for release next month. Interestingly Samsung published the user manual for the netbook, but nobody can really figure out why. Is it a marketing move? A strange kind of advertising?
The NC20 has a 12-inch screen with a massive 1280 x 800 pixel display, a 1.3 GHz VIA Nano processor, and an option for either a hard disk drive or solid state drives. They've moved some ports around since the NC10 was around for improved access to components using a panel near the bottom of the netbook.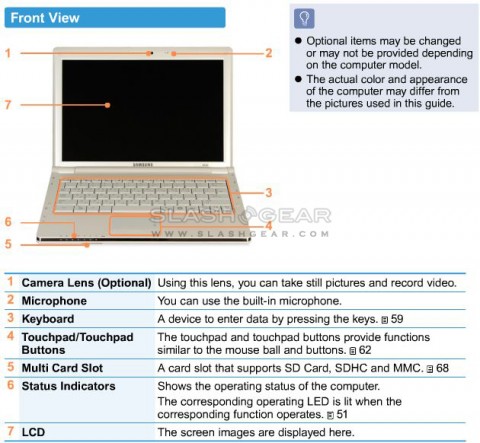 The changes include shifts in the placement of the USB, VGA output, and audio in/out. The SD slot was moved to the front of the netbook as well. According to the specs sheet, it optionally includes Wi-Fi or Bluetooth. However, it's likely that the final model will include both.
We have neither pricing info nor battery life reports for the Samsung NC10. However, the VIA Nano is supposed to beat the Intel Atom for efficiency, and most 6-cells do a good job.
It's rumored to have a price of $500 in the US based on estimates from the UK and Europe. Be sure to check out the gallery of the manual over at SlashGear.
Dec 19 2008
A new netbook processor platform by VIA hit the market Thursday, paving the way for competition with Intel and Nvidia.
Their device is in the three-chip style and they have appropriately named it Trinity.  It is made up of their Nano x86, the VIA VX800 chipset, and standard discrete PCI Express graphical power from S3. Their goal? To beat Intel for speed.
Their S3 Chrome graphics accelerator will manage HD video and DirextX10.1 graphics. It is oriented towards machines with Vista on them. No price for Trinity has been confirmed so far.
The rapid growth of the netbook market is beginning to show itself as more and more big (and small) companies enter the mix. Nvidia's recently introduced Ion processor will compete heavily with VIA, so expect things to get interesting soon.
Via InformationWeek.