ViewSonic has just announced the launch of its very first netbook, the VNB102 ViewBook. The company is better known for its production of computer monitors and has apparently decided to join the netbook bandwagon.
The VNB102 Viewbook will be officially released to consumers this Friday. The device isn't innovative in any way, but it will be able to keep up with others in its rank.
Features Include:
Intel Atom Processor
10-inch LCD Display
1 GB RAM
160 GB Hard Drive
WiFi
3 USB Ports
The VNB102 ViewBook will have a $399 price-tag.
Via TFTS
Image Via TFTS
Sep 22 2009
ViewSonic's new ViewBook netbook is a 10-inch machine running the Intel Atom, and is expected to ship soon at around $349.
A new 13.3″ laptop is also on the way from ViewSonic, using an Intel CULV chip and shipping at $899. Both the Viewbook netbook and the new laptop are designed by an outside firm that's done work on ViewSonic displays before.
ViewSonic VP/GM Jeff Volpe explained that the new netbook and notebook will offset depressing sales figures in the display market in recent months. ViewSonic's recently announced e-Reader is expected to make a dent as well.
Via Twice.
Sep 3 2009
Viewsonic is rolling out a new line of netbooks, and we're here with all the dirty details. The netbooks are known as the VNB100 and VNB101, and while they have little to speak of in terms of distinguishing characteristics, they could still be quite competitive.
The VNB100 packs an Intel Atom N270 and other standard-issue features like a 10-inch 1024 x 600 pixel display, 1 GB of RAM, and a 160 GB hard drive. It includes Wi-Fi as well as Windows XP. One bonus feature not often available in netbooks is ExpressCard 34.
The VBN101 is thinner and generally improved over the VBN100. It has the newer Intel Atom N280, a 5-hour lithium-polymer battery, and is only 25 mm thick.
Pricing for the upcoming Viewsonic netbooks is in the range of £299 ($615/€418) for VNB100 and the VNB101 for about £30 more. Check back soon for more details on availability.
Via Softpedia.
Jul 30 2009
ViewSonic has already released nettops in the past, but their newest releases come in even more compact than the 130 and 132 versions that were previously released.
ViewSonic has recently announced the VOT120 and VOT121 nettop models, which are roughly the size of a decently-filled CD wallet. Some tech specs of these nettops include Wi-Fi, gigabit Ethernet, four USB ports, and DVI-out.
The VOT120 has pretty standard tech specs, but the VOT121 is relatively more powerful. It's powered by a 1.4GHz CULV chipset and has HDMI output.
Pricing (in Taiwan) for these nettops is currently set at $304 for the VOT120 model and $423 for the VOT121 model. Learn more about ViewSonic's newest nettops by checking out this video clip.
Via Engadget.
Jul 23 2009
The netbook market is doing so well that other companies that are more well-known for making tech devices other than netbooks are starting to jump on board.
ViewSonic, a company that's pretty well-known for making LCD monitors, has recently announced that they will be launching two new models of netbooks – the VNB100 and VNB101.
Since these netbooks have similar names, you may at first think that they possess similar qualities. Upon further examination though, you may notice that the cheaper model (VNB100) actually offers more features than its brother, the more stylish VNB101.
First, a bit about the VNB100:
This netbook has a 10.2″ display with 1024×600 resolution. It's powered by a 1.6 GHz Intel Atom N270 processor and has 1 GB of RAM and a 160 GB hard drive.
Other tech specs for this machine include Wi-Fi, a card reader, three USB ports, and a 1.3 megapixel webcam. Sounds like the average Joe netbook right? Well, this machine is unique in that it also comes with an Expresscard slot.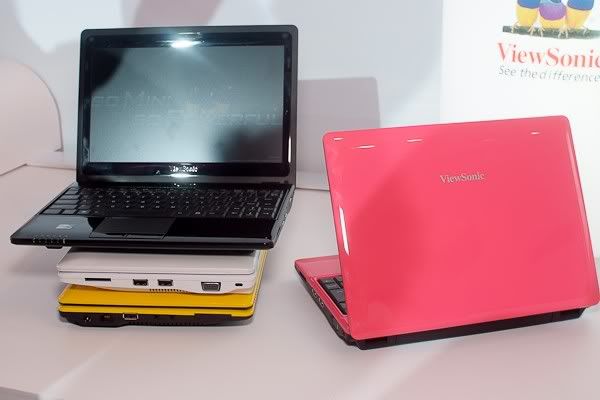 The dimensions of the VNB100 are 253mmx189mmx36mm. The unit weighs roughly 1.4 kilograms.
And now, about the VNB101:
This pricier netbook has the same screen size and resolution as the VNB100 and is powered by a 1.66 GHz Intel Atom N280 processor. It has the same memory and hard drive specs as that of the VNB100 as well.
Other tech specs for this machine include Wi-Fi, a card reader, Bluetooth 2.1, and a 0.3 megapixel webcam (yes, 0.3!).
This ViewSonice netbook model is thinner than its brother (27mm instead of 36mm) and is also lighter, with a weight of roughly 1.1 kilograms.
The battery life for both models is currently unknown, but the netbooks are rumored to be available in the Asia-Pacific by later this month. Also rumored is a European release later during the year.
The VNB100 will be available in four different colors (black, white, yellow and pink), while the VNB101 will be available in three different colors (black, red, and champagne).
Via NetbookChoice.
Mar 20 2009
ViewSonic is small company, quietly taking in a minuscule slice of the netbook market with the unimaginative but functional LinkPC. Aside from the LinkPC netbook, the company is known for its LCD monitors.
According to a recent release by an unnamed Taiwanese source, ViewSonic is looking to fire up its game in China with a few more LCD products intended for implementation in notebooks and netbooks. In addition it means to throw a gargantuan 22″ notebook into the market, perhaps as a gambit to get some attention by simply creating products that take up more space.
Via UberGizmo.
Jan 8 2009
Relative unknown ViewSonic released the LinkPC netbook. ViewSonic is known for making good screens, but not for making computers. The netbook is priced at $400, which is definitely a gamble for a company which hasn't much of a name with consumers.
The LinkPC would need some pretty interesting specs or features to stand out, but unfortunately doesn't seem to. It runs a 1.6 GHz chip, has 1 GB of RAM, and an uninteresting 160 GB drive. It will have LAN and Wi-Fi, running Windows XP Home.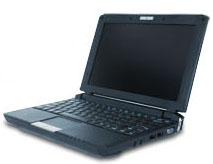 The only thing really setting it apart are the four USB ports. Unfortunately, they don't seem worth the extra cash, so we predict the ViewSonic LinkPC flops.
The LinkPC should be available this March.
Via BetaNews.