Netbooks' main selling points are portability and low price in an economically troubled time. As a tradeoff ,most are too low-powered to manage anything more resource-draining than word processing and web tasks. Wal-Mart is now offering a computer that seems to be the complete antithesis of a netbook, for a comparable price - $348.
The 17-inch Toshiba Satellite L355 notebook is clunkier and uglier than a netbook but has fearsome specs in comparison - a 1440 x 900 pixel LCD display, a 2.2 GHz Intel Celeron CPU, and the 4500M Intel Mobile Graphics Accelerator. It has a massive 250 GB SATA HDD and a full 3 GB of DDR2 SDRAM, expandable to 4 GBs.
It even has an optical drive, Wi-Fi, Etheret, 3 USB 2.0 ports, VGA out, an ExpressCard slot and a 6-cell battery.
The notebook may be the first in a line of laptops cheap enough to harass netbook sales figures. Could machines like the Toshiba Satellite L355 spell the end of netbooks?
Via TheTechHerald.
Aug 9 2009
Many netbooks have VGA ports that can be used to hook the device up to an external monitor, but some folks are worried that the quality of display on the external monitor may not be much better than that on the actual netbook.
If you're one of those folks, the following may surprise you. The majority of netbooks run on an Intel GMA 950 (graphics) chipset, so a resolution of 2048×1536 at 32-bit color is actually possible.
In the picture below, a Toshiba NB205 netbook is hooked up to an external monitor that has a native resolution of 1920×1200. This is clearly a high enough resolution to have several windows and/or tabs open at the same time.
While it might not be ideal to run performance-intensive video games or high-definition movies on the combination of a netbook and external screen, for relatively basic tasks, you shouldn't run into any problems.
Also, if you don't want to use your netbook's relatively small and cramped keyboard and touchpad, you could always connect a wireless mouse and keyboard through one of the netbook's USB ports
Although your netbook may be quite convenient on-the-go, why not make it easier on your eyes and hands by hooking it up to an external monitor or two and some wireless accessories when you're planning on being stationary for a while?
Via JKOnTheRun.
Aug 5 2009
Toshiba, it seems, is not content to be undercut by competitors like Acer and ASUS in the netbook market. Most of its machines are priced on the higher end, but it is now developing some netbooks designed to be under $600.
Norio Sasaki explained in simple words the motivation behind the change in tactics:
"The shift to lower prices is evident so our products must match."
Details about the upcoming netbooks are scant, but we do know that Toshiba plans to make two of them. Sasaki commented that Toshiba would "like to increase [its] products [in the sub-$599 range] from four to six."
These cheaper netbooks are expected first in Europe and the US, where price competition is highest.
Via PCWorld.
Jun 23 2009
Toshiba's newest netbook is finally ready for order!
This decently-priced Toshiba NB205 netbook comes in two offerings - a lower-end and higher-end version. The lower-end model has a price tag of $349 and comes in black. This netbook has a standard keyboard, is made from relatively cheaper materials, and can be purchased here.
To contrast, the higher end model with a price tag of $399 is available in four different colors. This netbook model has a high quality chassis and a chiclet-style keyboard. You can get the netbook here.
Both netbook models have 10.1″ screens, are powered by Intel Atom N280 processors, and have 1 GB of RAM and a 160 GB hard drive. The six cell netbook batteries are rumored to last for roughly eight to nine hours.
Via SlipperyBrick.
Jun 17 2009
The 10.1-inch Toshiba NB205 netbook seems to be just another clone with a 1.66 GHz Atom N280 CPU, 1 GB of RAM, Windows XP and a 160 GB hard drive. While you might be forgiven if you dismiss it for that reason, you'd still be making a mistake. Why? The NB205 has 8 hours of battery life.
That number is fantastic, considering the fact that netbooks still come out with under 3 hours of juice. Another fantastic feature includes a USB port that can charge auxiliary devices like cell phones and iPods, even if the system is powered off.
Toshiba's new netbook comes in at $399.99, but you get what you pay for.
Via SoftSailor.
Jun 2 2009
Toshiba has recently released a new netbook - the Mini NB205. There are two models of this netbook that are being released.
One model is the NB205-N210, which has a 10.1″ screen. This netbook comes with Windows XP and is powered by an Intel Atom N280 processor. It has 1 GB of RAM and a 160 GB hard drive. The N210 is available in black and weighs roughly 2.9 pounds.
The second Toshiba model is the NB204-N310. The technical specs of this netbook are similar to that of the NB205-N210, but it also has Bluetooth. The N310 has a metallic finish and has lids that come in either brown, white, pink, or blue.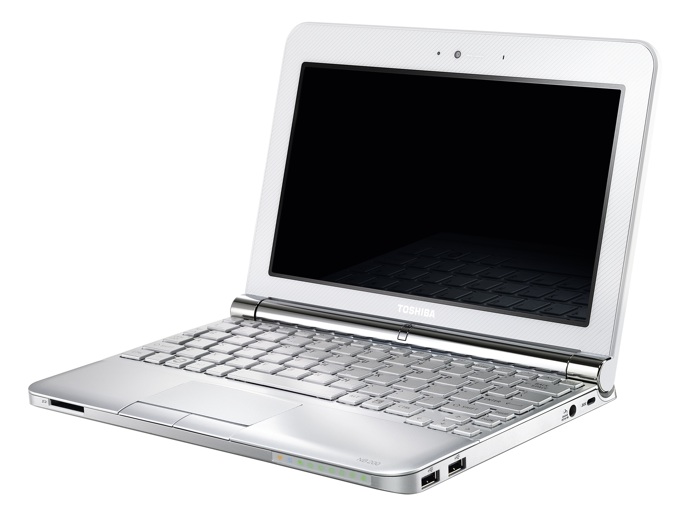 Unlike most existing netbooks, the new Toshiba netbooks have full-sized keyboards. They also have batteries that can last for roughly 9.5 hours. These new netbooks also have sleep-and-charge USB ports so that users can charge their mobile devices, such as cell phones, while the netbooks are in sleep mode.
Via Notebooks.
Jun 2 2009
Tuesday is expected to bring an exciting announcement - Fujitsu will be entering the North American netbook market, which it had earlier avoided in favor of European and Australian markets.
The new M2010 is a Ruby Red clone of just about every other netbook, with Windows XP, a 160GB HDD, 1GB of RAM, and a three-cell battery.
The screen size is 10 inches this time around, rather than the 8.9-inch model previously sold in Europe. Senior product director Paul Moore explained why:
"We didn't bring it to North America because it was an 8.9-inch screen. At that time the feedback we were getting was 8.9 was too small."
Even Dell is announcing similar feedback, focusing in on bigger netbooks by shutting down its 9-inch Inspiron Mini netbook line.
And Fujitsu isn't the only one making this announcement. Toshiba is set to join North American markets with its NB205 netbook, an update to the NB200, announced Monday.
Via CNet.
May 14 2009
Bearing only the above image, reports are surfacing that Toshiba Korea released its new 'miniB' netbook, featuring a "two-tone design of metallic silver and brilliant brown." I'm not quite sure how you get brown to be brilliant, but it sounds classy anyway.
The features are cited to be standard, with a 1.66 GHz Atom N280 CPU, 1 GB DDR2 SDRAM and a 160 GB hard drive. The machine supports "TruBrite CSV technology, Bluetooth connectivity, Sleep & Charge function and more." It looks to be a capable netbook, but it waits to be seen whether it's competitive.
For more related news, be sure to check out our section on Toshiba netbooks.
Via AvingUSA.
Apr 29 2009
Japanese manufacturers Toshiba and Fujitsu have announced two netbook releases.
The Toshiba netbook is the 10-inch NB200 netbook, an update of the classy Toshiba NB100. It uses an Intel Atom N280 chip.
Fujitsu, to contrast, is entering the game with the Loox M, the first netbook it's designed itself.
Check out this video at PCWorld for more info on the netbooks, and stay tuned right here for more news on the new releases.
Mar 10 2009
Toshiba has been disinterested in America's netbook market, though it offered a few nice alternatives back at CES. That has all changed, however, according to a Toshiba representative at Tuesday's XChange Solution Provider '09 conference.
Toshiba is looking to enter the netbook market with an Intel Atom machine. While it currently sells the NB100 netbook in Latin America and Europe, America hasn't gotten a taste of its machines.
This spring will bring Toshiba's new netbook, whose specifications are as yet unannounced. The manufacturer is looking to enter around the middle of the market's range:
"You know us: We won't be the least expensive out there and we won't be the most expensive."
Patrick Mani of Toshiba sees big profits in the "very special niche" offered by netbooks, leading to the company's decision to bring its netbooks to America. We're excited to see what that brings beyond the NB100, and as soon as more info is released we'll be on it.
Via CRN.

Jan 12 2009
We reported earlier that, assuming CES was an indication, Toshiba doesn't want anything to do with netbooks right now. However, that doesn't mean they aren't still in that world, and that's where these awesome-looking prototypes come in. They're shiny and stylish, which is a big plus, and seem like they could be used as interesting alternatives (or companions?) to iPhone- or Netbook-style devices. Check them out:
The first is the Toshiba Internet Viewer display, a 10-inch screen that can be detached from an accompanying keyboard for whatever reason you'd like.
These are some iPhone-style prototypes, ranging in their similarity to the Apple device. The one in the middle looks like it has two screens, which must surely mean it has some kind of touchscreen capability, and resembles a Nintendo DS.
Though a new Toshiba netbook would have been nice, we're pleasantly surprised to see these devices lining the Toshiba CES booth windows. They're only prototypes for now, but as soon as we get word of an application for them we'll let you know.
Via CNet.
Jan 7 2009
A few reporters back from the first day of CES 2009 are finding a conspicuous lack of something we were all kind of looking forward to - a new Toshiba netbook.
Toshiba's early entrant to the netbook market, the Toshiba NB100, was a sleek machine with some great specs and a competitive price. However, there hasn't been a followup thus far, leading us to wonder if Toshiba didn't like the reception its netbook received back in November.
The USB press kit supplied by Toshiba contained only "TVs, TV/DVD combos, and stand alone players." For now, we'll wait, but the situation may change as CES goes on. Who knows - maybe Toshiba wants to make some noise later in the game.
Another entrant with no netbook was LG.
As always, we'll keep you up to date as CES 2009 continues.
Dec 13 2008
Here are the netbook market shares by company for the third quarter:
Acer 38.3%.
Asus 30.3%.
HP 5.8%.
MSI 5.7%.
Dell 2.8%.
Lenovo
Toshiba
[via PCWorld]
Nov 19 2008
The new Toshiba NB100 netbook has hit the market, boasting a few enticing features to differentiate it from the competition.
The Toshiba features the same Atom processor used by the Eee PC, MSI Wind, and Mini-9. At a standard 1.6 GHz with Wi-Fi, bluetooth, Ethernet, USB ports and a memory card slot, the NB100 seems somewhat basic in most areas. There is one aspect to the netbook, however, that I think is something to be excited about.
The most fascinating thing is that the USB connectors on Toshiba's first netbook are designated 'sleep-and-charge'. What this means is your USB-connected devices (cell phones, MP3 players, etc.) can be charged through the netbook without you needing to even turn on the machine. This step seems to be part of a new wave of efforts (that we noted in yesterday's article) towards improving the efficiency of these devices. With business travelers and college kids not needing to carry around as many power adapters, this feature will definitely make the NB100 all the more attractive to the netbook market.


The flip side here is that the keyboard of the Toshiba NB100 is sadly somewhat imperfect. While it may not be an issue for the more enduring among us, typing for long periods may become uncomfortable and difficult. Instead of being appropriate for the 8.9-inch size of the thing, the keyboard seems as though it were built for a 7-inch netbook. While netbooks like the Dell Mini-12 (which we covered a few days ago) have shown a trend towards improved keyboard usability on smaller devices, the Toshiba NB100 is somewhat substandard in this respect.
Personally, the sleep-and-charge feature sounds interesting and intelligent, but not worth the small keyboard. However, with its first netbook certainly up to par in other areas, Toshiba looks to be willing to experiment with the netbook market. We should expect some promising things in the future.